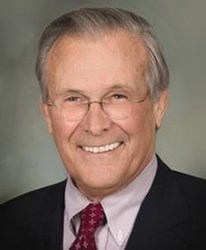 Fredericksburg, Texas (PRWEB) January 20, 2014
After an overwhelming response to the Annual Nimitz Dinner with the Honorable Donald Rumsfeld, the Admiral Nimitz Foundation has extended ticket sales and moved the event to the St. Mary's Parish Center. Tickets are on sale now and will be available until they are sold out or February 10th, which is the last day to purchase tickets.
The Honorable Donald Rumsfeld will kick off the Admiral Nimitz Foundation's 2014 Distinguished Speaker Series with the Nimitz Dinner in Fredericksburg, Texas on Monday February 24, 2014. Mr. Rumsfeld, the 13th and 21st United States Secretary of Defense will speak at the St. Mary's Parish Center in Fredericksburg. Tickets start at $250 for individual seats and include a cocktail reception, dinner, and the presentation by Donald Rumsfeld.
Donald Rumsfeld completed his 2nd tour as the 21st Secretary of Defense in December, 2006. Rumsfeld oversaw the U.S. Army's most significant reform in more than two generations – moving from a division-based to a modular brigade-based force – making possible today's vastly improved combat deployments. He strengthened the deterrent by reorganizing and revitalizing missile defense research and testing programs, free of the restraints of the ABM treaty.
Rumsfeld attended Princeton University on scholarships and served in the U.S. Navy (1954-57) as an aviator, a flight instructor, and an instructor of flight instructors. He ended his service in the Naval Reserve as a Captain when he became the 13th US Secretary of Defense in 1975 — the youngest in the country's history. From 1977 to 1985 he served as CEO, President, and then Chairman of G.D. Searle & Co. The successful turnaround there earned him numerous awards. Mr. Rumsfeld served as Chairman and CEO of General Instrument Corporation from 1990 to 1993. Until being sworn in as the 21st Secretary of Defense, Mr. Rumsfeld was a member and then Chairman of the Board of Gilead Sciences, Inc.
The evening of the 24th will start with a cocktail reception at 5:30 p.m. followed by dinner starting at 6:30 p.m. For more information on tickets and the event please contact Laura Nelson at 830-997-8600 ext. 200, or by email at nelson(at)nimitzfoundation(dot)org. Information is also available online at http://www.pacificwarmuseum.org.