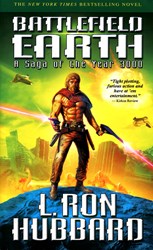 Hollywood, CA (PRWEB) January 17, 2014
Galaxy Press announced a new website for the bestselling science fiction epic, Battlefield Earth by L. Ron Hubbard. The new site has several new sections which make this site unique. A thorough review of the author's descriptions of the characters was used to create images for each of the major characters in the story. Additionally, a photo chronology of all the editions and languages of Battlefield Earth since its original 1982 release has been included.
The website is the next step in an effort to reach out through social media to connect up with the millions of existing fans. The Facebook page can be found at http://www.Facebook.com/BattlefieldEarth.
A towering masterwork of science fiction adventure and one of the bestselling science fiction novels of all time, L. Ron Hubbard's Battlefield Earth opens with breathtaking scope on an Earth dominated for a thousand years by an alien invader—and man is an endangered species.
For more information, go to http://www.battlefieldearth.com.