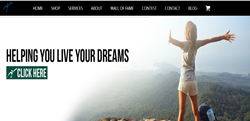 We are not just a store; we go to the people as well
Nashville, TN (PRWEB) January 21, 2014
LivingMyDream has given visualization a new meaning. Based just outside of Nashville, TN, this newly launched company offers a wide variety of products and services to help people live their dreams using the concepts and techniques of visualization. LivingMyDream is the first company to brand vision boards, and offers a variety of themed boards to fit the needs of any consumer. These products and services are available on their website, http://www.livingmydream.com.
The idea behind LivingMyDream is simple: Vision boards and other products that promote visualization are a great way for individuals and businesses to stay focused on the end result. Based on the concept, "In sight, In mind", LivingMyDream has started a new, innovative line of charms which can be pinned onto the vision boards to represent individual dreams. They can also be carried at all times on LivingMyDream bracelets, key chains, and necklaces.
However, LivingMyDream is more than just a retail brand. Apart from its products, it offers services to schools and businesses, all based on the same concepts. "We believe in the power of visualization and the Laws of Attraction", says co-founder Stacey Van Gogh. "And we feel that one cannot be too young to start visualizing and working towards his or her dreams. That is why we have designed a classroom curriculum. We are not just a store; we go to the people as well."
For businesses, LivingMyDream has partnered with Yakima Green, CEO and Founder of Recode. Green has extensive experience in employee engagement and vision board workshops. Together, Green and LivingMyDream are on a mission to increase efficiency and effectiveness for businesses. Stacey: "This could be very interesting especially for sales teams or teams who need to work towards common goals. And it is a great way to engage the employees in the business."
It is the mission of LivingMyDream to also help the less fortunate. Stacey: "Everybody has dreams and we want to help the people under difficult circumstances to have their dreams come true. That is why we donate a percentage of our proceeds to social projects."