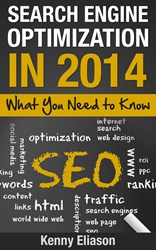 Search Engine Optimization is the key to having a successful online business. Without it, you could be up a creek.
Las Vegas, NV (PRWEB) January 17, 2014
In an effort to help small businesses understand the importance and benefits associated with search engine optimization, Kenny Eliason has released a new e-book, "Search Engine Optimization in 2014: What you Need to Know."
In the new e-book, Eliason shares insight from his years of experience helping businesses create and optimize SEO-friendly websites and improve and streamline their digital marketing efforts. The e-book covers topics like why SEO matters to your business, understanding the semantic search, what keywords are and why you need them, how to optimize your pages, why content matters and how to choose the perfect social media site.
"Search engine optimization is a constantly evolving practice," said Eliason, owner of NeONBRAND, a cutting-edge SEO marketing firm in Las Vegas. "Today, more and more customers are finding and researching businesses, products and services online. Through this e-book, I hope to help business owners and managers understand why SEO is so important to their long-term success."
Because SEO is always evolving, Eliason's e-book is specific to 2014 SEO marketing. In fact, the first section of the e-book outlines what search engines (specifically Google) have changed in recent months and how these changes affect your SEO efforts. Readers will also find innovative, helpful tips on how to effectively create and update content, link-building tips and social media expertise. The e-book also focuses on the need for mobile-optimized sites.
"The internet is changing quickly," said Eliason. "People are constantly on the go and a huge chunk of internet searches and web surfing is done via mobile phones or tablets. This means that business owners need make sure that their sites are optimized for this mobile traffic. If they don't, they'll miss out on tons of prospective customers."
"Search Engine Optimization in 2014: What You Need to Know" is available for download via Amazon.com.