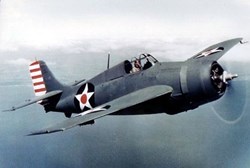 Hot Springs, SD (PRWEB) January 18, 2014
American history is full of heroes: individuals who went above and beyond to ensure the safety and freedom of others. In some cases, they paid the ultimate price.
This is the story of one such forgotten warrior, a World War II navy fighter pilot charged with defending Henderson Field, Guadalcanal, and other lands against Japanese air attacks with the Cactus Air Force.
He was Lieutenant Francis Register, also known as "Pinky"—and while he did not survive to speak of his actions during the war, this navy ace fought for his country to the point of exhaustion and beyond. His bravery earned him a Distinguished Flying Cross, two Air Medals, and a Purple Heart, the latter three awarded posthumously.
Fortunately for readers, Lt. Register went against wartime regulations and kept a diary, documenting his daily life, fears, and frustrations while serving in the war. Along with interviews and surviving family members, this diary was used as one of the primary sources for this valuable look at a real American hero, affectionately penned by triple e-Lit award winning author Franklin Hook, MD, author of Never Subdued and Desert Storm Diary.
The book may be ordered online at http://www.aboutanamericanhero.com.
About the Author
Franklin Hook, MD, is a retired physician and radiologist, as well as both a Navy and Army veteran; he commanded the 311th Evacuation Hospital during the first Persian Gulf War. He currently lives in Hot Springs, South Dakota.
His military career includes three years of active duty with the navy, including one year of sea duty, and service as a reserve army officer. He is a member of the American Legion as well as a lifetime member of the VFW.
Hook is a graduate of Stanford University and the Jefferson Medical College of Jefferson University in Philadelphia. He is also an Associate Professor of Radiology (retired) of the University of North Dakota School of Medicine.
He is the award winning author of Never Subdued, a true narrative history of the Philippine-American War, and Desert Storm Diary. He has also written multiple medical articles for various journals, and one medical textbook on CD-ROM.
###