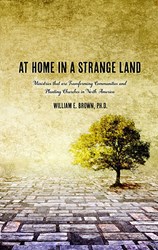 Lynchburg, VA (PRWEB) January 18, 2014
"At Home in a Strange Land: Ministries that are Transforming Communities and Planting Churches in North America" was released recently by Liberty University Press.
"At Home in a Strange Land" is a compilation of stories about the experiences of church planters as they attempt to start Christian organizations in some of the most resistant areas to Christianity in North America, such as Las Vegas, Nevada, and Quebec, Canada.
Author William Brown recommends a small group discipleship approach to church planting that is biblical, reproducible, and economical. Drawing on his past experiences as a church planter, pastor, professor, and Nehemiah Project Director, Brown presents various principles and practices for ministry, focusing on the relationship between ecclesiology and missiology as well as building on the Great Commission's call to make disciples.
Brown tells the story of how each church founder felt God's calling to church planting, and how God led them to their new homes in diverse locations in North America. Through every story, Brown weaves the common thread of earning the right to share the Gospel by living a servant lifestyle. According to Paige Patterson, president of the Southwestern Baptist Theological Seminary, Brown's book is "not the average church-planting manual."
"Most of the church planters who have written chapters in this book are men whose work I have observed firsthand," Patterson said. "These church planters tell their own stories, which are among the most remarkable that I have seen."
"At Home in a Strange Land" is now available for purchase via Amazon and Barnes & Noble.
About the Author:
William E. Brown is lead pastor of North Star Baptist Church and is an assistant professor at Liberty University Baptist Theological Seminary. His church ministry focuses on service projects, small groups, personal discipleship, and Bible teaching.
Brown has been involved in church planting and ministry in Washington state, Alaska, and North Carolina. He has been an Army aviator, bush pilot, commercial fisherman, charter boat operator, and public school teacher. These experiences have given him a passion for the un-churched and un-evangelized.
Brown has also served as an assistant professor at Southeastern Baptist Theological Seminary (SEBTS) and director of the North American Mission Board's Nehemiah Project. While at SEBTS, Brown developed the North American Church Planting program. He and his wife, Kathy, have three married sons and live in North Carolina. He has a Ph.D. in Applied Theology/Evangelism, an M.Div., and an M.Ed.
About Liberty University Press
Liberty University Press remains at the forefront of helping Christian authors achieve their personal publishing goals. Visit Liberty University Press online for more news and information.
About Liberty University
Liberty University, founded in 1971, is the largest private, nonprofit university in the nation, the largest university in Virginia, and the largest Christian university in the world. More than 100,000 students attend classes on its 7,000-acre residential campus and study in its thriving online education program.