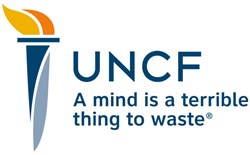 Washington, DC (PRWEB) January 17, 2014
"UNCF applauds President Obama and First Lady Michelle Obama for convening this summit, focused on increasing college opportunities for low-income students and narrowing the wealth divide through expanded educational access.
"UNCF has long recognized that access to education is the key to economic success. For 70 years UNCF has relied on its army of colleges and 350 scholarship programs to help get students to and through college, and to realize the impact of a college education.
"This summit was not just about talk, but a real call to action. UNCF, along with its 37 member institutions, will continue the tradition of partnering with the White House to create communities of action and build better futures for all students."
Background on current UNCF initiatives aimed at increasing the number of low-income students enrolled at and graduating from HBCUs:

UNCF will use proceeds from revenues generated from the sale of the 1964 Civil Rights Act Commemorative Coin to sustain and enhance the capacity of UNCF member institutions to address the needs of low-income students and establish an endowed scholarship fund to support scholarships for minority students. In 2008, Congress designated UNCF as the beneficiary organization of revenues generated from the sale of the Coin. The new Coin, issued in 2014, celebrates the 50-year anniversary of the signing of this landmark legislation.
The UNCF College Account Program (UCAP) is a custom-designed college savings and scholarship initiative for low-income students, conducted in partnership with Knowledge is Power Program (KIPP) charter schools and Citibank. Students with savings accounts in UCAP schools are prepared for and more confident about attending college than others.
The Gates Millennium Scholars Program, which is administered by UNCF, provides significant college scholarships annually to over 1,000 high-achieving, low-income minority students. The GMS Program aims to educate a diverse new generation of leaders by expanding college opportunities and access with a suite academic, financial and personal supports.
In June 2013, UNCF launched a new, nationwide Better Futures Public Service Announcement (PSA) campaign. The new campaign was unveiled at the U.S. Department of Education, with U.S. Secretary of Education Arne Duncan; Dr. Michael L. Lomax, UNCF President and CEO; and Vernon Jordan, former UNCF Executive Director. UNCF's Better Futures PSA campaign will continue during 2014 to help raise money for low-income, minority students to attend college, by illustrating how providing financial support for deserving students to go to college is an investment in a better future for everyone."
About UNCF
UNCF (United Negro College Fund) is the nation's largest and most effective minority education organization. To serve youth, the community, and the nation, UNCF supports students' education and development through scholarships and other programs, strengthens its 37 member colleges and universities, and advocates for the importance of minority education and college readiness. UNCF institutions and other historically black colleges and universities are highly effective, awarding 20 percent of African-American baccalaureate degrees. UNCF administers more than 400 programs, including scholarship, internship and fellowship, mentoring, summer enrichment, and curriculum and faculty development programs. Today, UNCF supports more than 60,000 students at over 900 colleges and universities across the country. Its logo features the UNCF torch of leadership in education and its widely recognized motto, "A mind is a terrible thing to waste."® Learn more at http://www.UNCF.org