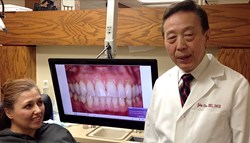 With Chao Pinhole Gum Rejuvenation™ receding gums are reversed with a minimally invasive technique that is quick, easy and instantly pleasing.
Los Angeles, CA (PRWEB) January 17, 2014
Rocio Kuresa is a 40-something mom and dental assistant who had multiple gum recessions. "My receding gums looked terrible and I was experiencing sensitivity to cold temperatures," says Rocio. "This is an embarrassing problem for someone like me, who works in a dental office! I was reluctant to undergo invasive gum grafting, especially because of the downtime I knew it would require for healing," she says. "When I learned about Chao Pinhole Gum Rejuvenation™ I researched the results and read the study. After discussing treatment alternatives with my dentist, I decided to have it done," she says. Rocio and Dr. Chao will be guests on on the award- winning national TV show "The Doctors" on Tuesday January 21st.
Rocio had 10 teeth with varying degrees of recession. As Dr. Chao explains, traditional gum grafting would have required multiple surgeries spaced months apart, as most general dentists or periodontists will treat only two to three teeth at a time because of the trauma and healing time involved. With Chao Pinhole Gum Rejuvenation™, Dr. Chao was able to treat all of Rocio's affected teeth in under an hour. "56 minutes, to be exact," says Dr. Chao. "That's why we also call it the Lunchtime Gum Lift," he says. "After treatment patients can go right back to their normal activities, including eating," he says. "Rocio will reveal her new look on the set of "The Doctors."
Chao Pinhole Gum Rejuvenation™, also known as the Chao Pinhole Surgical Technique™ is gaining international attention as over 200 dental professionals from across the U.S. and around the world have been personally trained by Dr. Chao, who is conducting monthly training classes in Los Angeles.
For more information visit http://www.pinholegumrejuvenation.com or call (888) 309-7501.
About the Chao Pinhole Surgical Technique™
A 33-month study of 43 patients with 121 gum recessions using the Pinhole Surgical Technique™ was published in the October 2012, issue of The International Journal of Periodontics and Restorative Dentistry. The results of this study were as successful as the standard gum grafting procedure which requires cutting and sutures, while patients who underwent the Pinhole Surgical Technique reported virtually no pain, no bleeding and high satisfaction with the almost instant transformation of the defective gum line. (Int J Periodontics Restorative Dent 2012; 32: 521-531.)