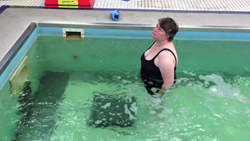 Water provides low-impact, low-weight bearing exercise, minimizing the risk of undue stress.
Middletown, PA (PRWEB) January 20, 2014
Painful joint inflammation caused by wear-and-tear of a joint over time—a disease known as osteoarthritis (OA)—affects more than 24 million Americans. Effectively treating OA involves increased movement of the patient's joints, which is often very painful. Water offers low-impact, low-weight bearing exercise that allows aching joints to move freely. A warm aquatic environment also reduces joint inflammation and improves circulation A body suspended or floating in water essentially counterbalances the downward effects of gravity with the upward force of buoyancy.
On January 22, 2014 from 1:00pm – 2:00pm EST a webinar entitled "Aquatic Exercise Intervention for Patients with Osteoarthritis" will be presented by Dr. Dennis G Dolny and Dr. Eadric Bressel of Utah State University. The webinar is presented by the International Council on Active Aging (ICAA) and sponsored by HydroWorx. In this webinar, Dr. Dolny and Bressel will share their research findings from incorporating high intensity interval training in the water and various levels of water resistance to enhance postural stability and functional capacity in people diagnosed with osteoarthritis.
"Water provides low-impact, low-weight bearing exercise, minimizing the risk of undue stress," stated Dr Dolny, who directed the Human Performance Laboratory at the University of Idaho for 24 years. "In a pool with a variable-speed underwater treadmill and resistance jets, new muscle recruitment patterns occur which can create greater improvements in mobility."
After participating in the webinar, attendees will have an increased understanding of:
1. The role exercise training in water has on altering land postural stability and functional capacity in patients diagnosed with lower extremity osteoarthritis.
2. The impact exercise training in water has on exercise adherence and perception of exercise effort in osteoarthritis patients.
3. How increased water resistance impacts individuals who are standing still or walking in the water.
4. How resistance jets can be used to increase metabolic and balance stress during water exercise.
For more information or to register for the webinar, visit http://ww2.hydroworx.com/webinar-osteoarthritis.
About the Presenters
Dr. Dennis Dolny received his BA and MS in Physical Education from Wake Forest University and PhD from Kent State University in Physical Education with an emphasis in Exercise Physiology. He heads the Department of Health, Physical Education & Recreation in the College of Education & Human Services at Utah State University and has chaired ten doctoral committees and published 30 peer-reviewed research articles. Dr. Dolny examines the role of hydrotherapy in rehabilitation following lower extremity surgical procedures and joint replacement in the elderly.
Dr. Eadric Bressel is a professor and clinical research scientist in the Sports Medicine Program at Utah State University. He received his B.S. and M.S. in exercise science from California State University, Fresno, and he received his Ph.D. in biomechanics from the University of Northern Colorado. His aquatic research examines neuromechanical adaptations to therapeutic exercise. Eadric is a member of the American Society of Biomechanics and the American College of Sports Medicine.
About HydroWorx
HydroWorx, based in Middletown, Pennsylvania, offers a wide range of underwater treadmill therapy pools, and peripheral products and services. Every day, more than 23,000 athletes and patients use HydroWorx technology to recover from injuries and health conditions.
More information about HydroWorx upcoming webinars, as well as archived webcasts from previous events, can be found by visiting http://www.hydroworx.com/research-education/video-library/details.aspx?id=151&categoryId=23.