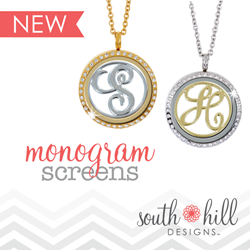 'The single cursive initial makes a vivid personal statement.' - COO and co-founder Joe Ochoa
Scottsdale, AZ (PRWEB) January 23, 2014
South Hill, the home-party company known for personalized jewelry, has launched a line of monograms that transform a locket into a personal signature piece. The entire alphabet is represented in elegant cursive capitals, finely crafted in a choice of gold- or silver-toned metal. Each letter was hand-drawn by South Hill's designers, so this is a completely original font.
COO and co-founder Joe Ochoa explains: "Our new monogram takes the form that we call a screen, which occupies the entire locket surface. It has a stencil character that reveals the texture and color of whatever fabric is worn behind the locket. Charms can be placed in front of the monogram, or it makes a striking impact on its own. Either way, the single cursive initial makes a vivid personal statement."
Regional Director Amy Faircloth adds: "Most customers are selecting their own first- name initial for the monogram, but some are choosing to celebrate a loved one in their locket. We are seeing a huge early response to this new line."
The launch of the monogram series is just one new product from a company that prides itself on a strategy of continuous innovation. Along with the monograms, South Hill has introduced two wrist wraps in fine leather with metallic surfaces that create a subtle sheen, one silver and the other gold. Each strap is adorned with metallic studs bearing the company's proprietary floral emblem.
In addition, South Hill has added to its ever-growing range of locket charms. New entries include a heart-shaped piano keyboard for music lovers, a rainbow emerging from fluffy clouds, a compass for travelers, and a Hamsa hand for the mystically inclined.
Finally, a growing demand for personalized jewelry in the Hispanic market has prompted South Hill to offer a new range of coins inscribed with the words "Mama," "Familia" and "Amor."
CEO Brian Palmer explains: "Our mission is to bring joy and beauty to our customers, generous rewards to our hostesses, and lasting prosperity to our Artists. The best way for us to realize that mission is to keep creating new products that thrill the market and accelerate our growth."