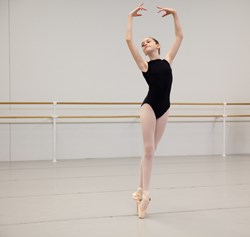 "Our first Summer Program attracted stellar students from all over the country," School Director William DeGregory says. "I cannot wait to see the talent we'll meet on our 2014 tour."
Philadelphia, PA (PRWEB) January 17, 2014
Entering its second year, The School of Pennsylvania Ballet announces Summer Program audition tour stops in Boston, Carlisle, Chicago, Miami, New York, Pittsburgh, and Winston-Salem.
"Our first Summer Program attracted stellar students from all over the country," School Director William DeGregory says. "I cannot wait to see the talent we'll meet on our 2014 tour."
Located in the Louise Reed Center for Dance in Center City Philadelphia, the home of Pennsylvania Ballet, the Summer Program of The School of Pennsylvania Ballet offers the serious ballet student an intensive, high level of instruction that includes classical ballet technique, pointe work, partnering, men's classes, variations, as well as complementary classes in modern dance, Pilates, and peak performance training. The SPB Summer Program will be held from July 7, 2014 to August 8, 2014, for students ages 8 to 18. Housing will be available for students ages 12 to 18 only.
Following auditions in Atlanta, Orlando, Philadelphia, and Seattle, the tour continues with stops in the following cities:
Boston
Saturday, February 15, 4 to 6 p.m.
Boston Ballet
19 Clarendon Street
Boston, MA 02116
Carlisle, PA
Sunday, February 2, 2 to 5 p.m.
Central Pennsylvania Youth Ballet
5 North Orange Street, Suite 3
Carlisle, PA 17013
Chicago
Saturday, February 22, 4 to 7 p.m.
Joffrey Ballet
10 East Randolph Street
Chicago, IL 60601
Miami
Saturday, January 18, 2 to 4 p.m.
Miami City Ballet
2200 Liberty Avenue
Miami Beach, FL 33139
New York
Saturday, February 1, 5 to 8 p.m.
School of American Ballet
70 Lincoln Center Plaza
New York, NY 10023
Pittsburgh
Sunday, February 23, 1:30 to 4 p.m.
Pittsburgh Ballet Theater
2900 Liberty Avenue
Pittsburgh, PA 15201
Winston-Salem, NC
Sunday, Jan. 19, 9 a.m. to 12 noon
North Carolina School of the Arts
1533 South Main Street
Winston-Salem, NC 27127
For directions to a specific audition site, please contact the studio directly during regular business hours.
Online registration is available, but not required. Students should arrive 30 minutes prior to the scheduled start time to register. Auditions are for students ages 12 and up only (except Carlisle, PA). A $30 audition fee, payable in cash or check made out to Pennsylvania Ballet, is due at registration.
The audition format will be a traditional ballet class with barre, center, and pointe work. Women should wear pink, footed tights with black leotards, and bring pointe shoes. Gentlemen should wear black tights and a white T-shirt.
Audition results will be emailed approximately one to two weeks after the audition date. Prospective students are asked not to call The School of Pennsylvania Ballet office for results. The School of Pennsylvania Ballet strongly encourages all students to audition in person. However, the School will accept video auditions for students unable to attend one of the audition tour sites. Video audition instructions can be found at paballet.org/school-auditions.
Connect with us! Follow The School of Pennsylvania Ballet on Facebook for updates and photos from the classroom.
Ainsliewear is the official leotard of The School of Pennsylvania Ballet.
Pennsylvania Ballet's 2013-2014 Season sponsors include DoubleTree by Hilton Hotel, The Sporting Club at the Bellevue, and US Airways.
About The School of Pennsylvania Ballet
The mission of The School of Pennsylvania Ballet is to provide the highest level of ballet training for its students and to expose students to the world of professional dance through regular interaction with Company members and artistic staff and performance opportunities with the Company. Through its carefully graded curriculum, the school will embody a natural progression of skill development and continuum of study from the earliest levels of training to a professional career with Pennsylvania Ballet or other professional ballet companies.
About Pennsylvania Ballet
Founded in 1963 by Balanchine student and protégée Barbara Weisberger, Pennsylvania Ballet is one of the nation's leading ballet companies. Headquartered in Philadelphia, the Company's annual local season features six programs of classic favorites and new works, including the Philadelphia holiday tradition, George Balanchine's The Nutcracker™. For more information, visit paballet.org or call 215.551.7000.