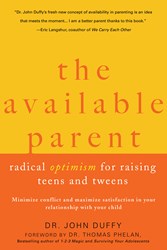 A healthy dose of optimism and lots of practical suggestions. - Publishers Weekly
(PRWEB) January 20, 2014
Dr. John Duffy, national parenting expert and author of The Available Parent: Radical Optimism for Raising Teens and Tweens, spoke to new research that reveals a link between anxiety and depression and overuse of technology on Fox News. A new study has revealed that a culture of constant smartphone-checking and laptop use can negatively impact emotional well-being. As a clinical psychologist and expert in teens and tweens, Dr. Duffy offered tips for reducing the harmful effects of overuse of technology.
Dr. Duffy is also the parenting expert on Steve Harvey, which airs nationally on NBC.
Dr. John Duffy is a clinical psychologist and certified life coach with a thriving private practice in the Chicago area. Dr. Duffy works with both teens and adults and specializes in helping parents maximize satisfaction and minimize conflict in their relationships with their teenagers. In addition to clinical work, Duffy also consults with individuals, groups and corporations in a number of areas, including Emotional Intelligence, stress management, balancing work and family, conflict resolution, goal-setting and the power of thoughts in bringing about change. Dr. Duffy's highly satisfied clients include Sears, Allstate, General Electric, Household Financial, Exxon Mobil, Accenture, Bank of America and Hewitt Associates. The Duffy family lives in Chicago, Illinois.
The Available Parent
Radical Optimism in Raising Teens and Tweens
Have you ever been bewildered by the changes in your child and your sudden lack of effectiveness as a parent? When hugs and family fun have been replaced by silence, slamming doors and an ever-changing array of moods, you need new tools. Top teen expert Dr. John Duffy has encountered all of this and more in his family counseling practice and offers excellent advice, clear strategies and teen-tested solutions in The Available Parent. The Available Parent is also available as an audiobook.