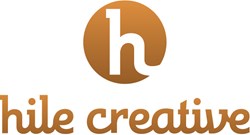 No matter how savvy your business is, it won't last long without strong relationships.
Ann Arbor, MI (PRWEB) January 20, 2014
Once a one-man illustration and graphics studio, Hile Creative — now a full-service agency — is celebrating three decades of success.
Founder and President Dave Hile launched the business in 1984 as Hile Illustration and Design. Since then, he's seen tremendous growth and change not only in his business, but also throughout the entire industry.
"If you wanted to be in this field in the mid-'80s, all you needed was a drafting table, a t-square, a ruler, and talent," said Hile. "Now you need sophisticated software, specialized knowledge, and the willingness to keep up with rapidly evolving trends and demands."
The industry's fast pace has kept Hile on his toes, but he said that's what makes his work exciting. "When your clients' needs change, you have to adapt."
There are some things he'll never change, though. "I place tremendous importance on both client relationships and creativity. No matter how savvy your business is, it won't last long without strong relationships. Similarly, sophisticated software and marketing analytics programs are useless without raw creativity."
Last year, Hile changed the business name from Hile Design to Hile Creative to better represent the firm's integrated suite of services. With a staff of 11 he calls "the best team I've ever had," he's eager to see where business takes him from here.
"It's a great time to be in the industry," said Hile. "We have the capability to create great work and help our clients be successful, but we also have advanced tools to measure and grow that success."
Hile Creative is an Ann Arbor brand development and creative design firm that has served businesses of all sizes for three decades. To learn more about Hile's full range of integrated services, including web design and development, branding, and advertising, visit http://www.hilecreative.com.