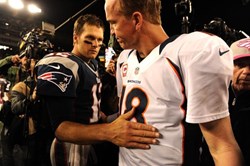 Denver, Colorado (PRWEB) January 18, 2014
Championship Sunday is finally here. Four top teams are one game away from the coveted Super Bowl crown and ticket sales are trending at the top of sports queues across the country, said Marta Ault at BuyAnySeat.com.
The first game is on Sunday at 1:00 MST at Invesco Field at Mile High in Denver pits the tough, tenacious Tom Brady against the potent, precise Peyton Manning. In a battle of the NFL's most prodigious active quarterbacks, it's the 13-4 New England Patriots versus the 14-3 Denver Broncos.
Manning, at 37, saw his name in lights this season after sending strikes to his battery of receiving weapons. Bottom line, he stockpiled 55 touchdown passes and 5,477 season passing yards, both big time NFL records. Meanwhile, Tom Brady and supreme commander Bill Belichick have quietly turned a team of misfit backups into a formidable – and usually unbeatable - squadron.
The two top QBs own a multitude of honors. Manning is a four-time NFL MVP while Brady has received the award twice. Brady has three Super Bowl rings and two Super Bowl MVP awards. Manning has earned one of each.
Brady has the edge against Manning in the win category, including Peyton's time with the Colts. His team has beaten Manning's in 10 of 14 games, including overcoming a 24-point deficit in the most recent 34-31 overtime win in the regular season. In the postseason Brady has been just as determined and dependable, having lost just once.
"Despite Brady's record over Manning and the Broncos recent loss to the Patriots, pundits are predicting Peyton to prevail. For the first time since 2006, the Patriots will be the official underdog as the Broncos are a 6.5-point favorite," said Marta Ault at online ticket marketplace BuyAnySeat.com.
"Both games provide intense rivalries and promise close outcomes. That's why we're proud to offer fans the most comprehensive and continuously updated selection of sports tickets online, with a worry-free guarantee to protect their purchase," added Ault.
"To access the full line-up of NFL Championship Game tickets now available, customers can go to BuyAnySeat.com and click NFL in the Sports Header, then select their team and their tickets."
Meanwhile, on the west coast starting at 3:30 pm PST, young guns Colin Kaepernick and Russell Wilson face off. The two emerging quarterbacks have played against each other just three times in their careers, but are already developing a fierce rivalry.
As the old guard of true pocket passers begins to move its way out of the league, this new breed of quarterback is turning heads. Not only are Wilson and Kaepernick capable of impressive passing numbers, but they are formidable running threats as well. The two quarterbacks burst forth with a combined 1,063 rushing yards this season. For comparison, Manning and Brady managed negative 13 yards rushing for the entire regular season.
While the AFC teams are known for their offense, the NFC teams have made it this far riding their impenetrable defenses. The Seahawks ranked Number One overall in total defense this year by allowing just 14.4 points per game. The 49ers similarly were Number Five overall giving up just 17.
Who is going to win? Pundits on the Bleacher Report rank the San Francisco 49ers at the top in terms of having the best team to win this year's Lombardi Trophy, followed by the Denver Broncos, Seattle Seahawks and New England Patriots. Whoever wins, fans are hoping for three final and unforgettable NFL games.
To shop for NFL Championship Game tickets, visit BuyAnySeat.com.
About BuyAnySeat.com: An online ticket marketplace, BuyAnySeat.com connects sports, theater and other live entertainment fans to an extensive network of ticket sellers worldwide. The site's simplified listings and navigational tools enable shoppers to easily locate, compare and purchase inexpensive, discounted or lower-priced tickets to virtually all advertised sports and entertainment events around the globe.
The ticket marketplace, which is PCI-compliant and Norton Secured, also provides customers with a complete Worry-Free Guarantee on all ticket purchases. Based in Denver, Colorado, BuyAnySeat.com is a subsidiary of Denver Media Holdings. For more information, please visit http://buyanyseat.com.