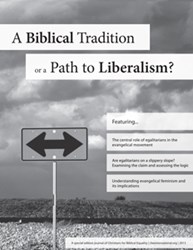 Minneapolis, MN (PRWEB) January 20, 2014
Christians for Biblical Equality (CBE) has published their sixth special edition journal since 2011. Titled 'A Biblical Tradition or a Path to Liberalism,' the journal examines the biblical and historical arguments regarding biblical egalitarianism—the belief that the Bible teaches the full equality of women and men of all ethnicities, economic classes, and age groups.
Published in December 2013, 'A Biblical Tradition' was written with pastors and other church leaders in mind. Tim Krueger, editor of the journal, stated, "This journal is academically rich, yet readily accessible."
CBE has a history of producing scholarly materials that maintain a high level of accessibility, and their special edition journals follow in this practice. "We publish and produce 'Mutuality,' a popular magazine, 'Priscilla Papers,' an academic journal, on a quarterly basis." Explained Mimi Haddad, President of CBE, "so, we work to ensure that our special edition journals blend these elements together. We want people to be able to pick these journals up at a conference, or event, and quickly be able to engage with this important content."
Articles focus on the understanding the biblical foundation for egalitarianism, the early American evangelical practices, and evaluating accusations of liberalism from non-egalitarians. This journal seeks to demonstrate that "egalitarian perspectives have arisen specifically because evangelicals held the Bible as authoritative and sought to apply it to everyday life," noted Krueger.
In 2014, CBE plans to publish two more special edition journals.
In its effort to advance a biblical foundation for gift-based rather than gender-based service, CBE sponsors annual conferences, facilitates local chapters, hosts an online book service, and publishes two award-winning journals. For more information, visit http://www.cbeinternational.org.