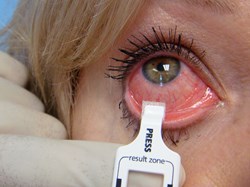 RPS is excited to work with Nicox to bring AdenoPlus to Canada
Sarasota, FL (PRWEB) January 21, 2014
Health Canada granted Rapid Pathogen Screening, Inc. (RPS®) a Medical Device License for AdenoPlus®, a point-of-care test to help quickly and accurately determine whether a conjunctivitis (pink eye) infection is caused by Adenovirus. RPS is a developer, manufacturer, and marketer of cost-effective tests to rapidly identify patients with various infectious diseases and conditions. The Medical Device License allows the AdenoPlus test to be marketed and sold in Canada and follows the product's successful release in Europe, Asia, and the United States. As per a worldwide licensing agreement signed in 2012, AdenoPlus' distribution rights in Canada were granted to Nicox (NYSE Euronext Paris: COX), an emerging international company focused on the ophthalmic market. Nicox currently distributes AdenoPlus to eye care professionals in the U.S.
"RPS is excited to work with Nicox to bring AdenoPlus to Canada," said Robert Sambursky, MD, chief executive officer, president, and chairman of RPS. "Studies show significant overlap in the signs and symptoms of viral and bacterial conjunctivitis, making this contagious infection difficult to diagnose clinically. Providing a rapid and accurate in-office diagnosis with AdenoPlus will save valuable time and money."
Due to the overlap in signs and symptoms, many healthcare providers empirically treat all cases of conjunctivitis with antibiotics, which are ineffective against the highly communicable viral form of the infection. As a result, this can lead many patients to return to school, work, or daycare while still contagious. The overuse of antibiotic treatments also contributes to the growing concerns of increasing global resistance to life-saving antibiotics.
AdenoPlus helps to identify patients with Adenoviral conjunctivitis using a small tear sample collected from the inside of the lower eyelid. A nurse or technician can perform the test when a patient presents with a red eye or other symptoms of conjunctivitis. The patient can then be isolated while they wait only 10 minutes for the result. The AdenoPlus test has a clinical sensitivity of 90% and a specificity of 96%. This level of accuracy helps the clinician make an appropriate diagnosis and informed patient management decisions during the patient's initial office visit. To learn more about the AdenoPlus test or other RPS products, visit http://www.rpsdetectors.com. To learn more about Nicox, visit http://www.nicox.com.
About RPS
Founded in 2004, Rapid Pathogen Screening, Inc. (RPS®) is an emerging developer, manufacturer, and marketer of rapid point-of-care (POC) diagnostic tests. The company's innovative and patented technology platform facilitates the development of a spectrum of cost-effective tests to support the rapid diagnosis of patients with infectious diseases and inflammatory conditions. As a result of U.S. government contracts, this platform is also being developed to help detect the body's immune response to viral and bacterial infections as well as chemical nerve agent blood toxins. RPS tests have high sensitivity and specificity, and can be easily performed by a clinician or their staff without extensive training or additional equipment. For more information on RPS or its products, visit RPSdetectors.com.