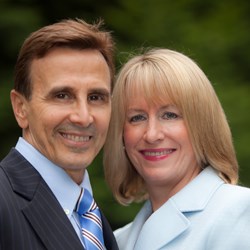 Stowe, Vermont (PRWEB) January 20, 2014
Reina, A Trust Building Consultancy is proud to announce the naming of Dennis Reina, PhD and Michelle Reina, PhD, to Trust Across America - Trust Across the World's "Top 100 Thought Leaders in Trustworthy Business 2014" list. The annual award is given to experts and leaders from around the world who are transforming organizations and propelling forward trust in business during a time when mistrust plagues society.
Viewed worldwide as authorities in trust, Dr. Dennis and Dr. Michelle Reina, cofounders of Reina, A Trust Building Consultancy, are honored by the selection. "The recognition by Trust Across America is an honor. We started our business to respond to the need leaders have to build and rebuild trust in organizations to transform their cultures and to create a workplace where people want to work and produce results," says Dennis Reina.
Barbara Kimmel, Executive Director Trust Across America, shares in the organization's official announcement, "The honorees are inspiring organizations to look more closely at their higher purpose… to create greater value for, and trust from, all of their stakeholders."
This higher purpose is the very root of Drs. Dennis and Michelle Reina's work. The renowned experts and award-winning authors have been passionately guiding organizations around the world, such as American Express, AstraZeneca, and Walt Disney World, to build or rebuild trust for more than two decades.
Reflecting on the importance of trust in relationships, Dr. Michelle Reina says, "Trust is both the adhesive that holds organizational relationships together and the oil that lubricates its performance.
While most leaders recognize the need for trust and value people and relationships they do not know how to build and sustain trust or how to respond when trust has eroded or broken down," she finishes.
Recognizing that most leaders struggle with how to respond to broken trust, Dennis and Michelle Reina help leaders step into and work through the erosion of trust rather than turn away from it. They serve business leaders through consulting, speaking, executive coaching and training programs called Trust Work Outs. Organizations they serve have experienced increased engagement and bottom line results through sustainable trust.
Trust Across America shares on their website that recipients honored for its 4th annual list were first nominated then rigorously evaluated by a qualified independent judging panel for final selection. Awardees selected come from the public and private sector ranging from well-known CEOs and leadership experts to teachers as well as researchers. Trust Across America is a program of Next Decade Inc.
About Drs. Dennis and Michelle Reina:
Dennis Reina, Ph.D., along with his partner, Michelle Reina, Ph.D. are pioneering experts on workplace trust and co-authors of the award winning, business bestselling books, "Rebuilding Trust in the Workplace" and "Trust and Betrayal in the Workplace" (Berrett-Koehler). They are co-founders of Reina, A Trust Building Consultancy, a global enterprise specializing in measuring, developing, and restoring workplace trust. Contact them at http://www.reinatrustbuilding.com.