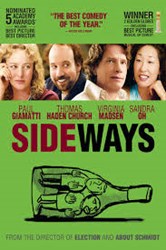 (PRWEB) January 17, 2014
Sideways was filmed in the Santa Ynez Valley in October and November of 2003 and was released in 2004, making 2014 the ten year anniversary. Grapeline Wine Tours is hosting a tour of several of the locations there the filming occurred including Foxen Vineyard, Blackjack Ranch, Kalyra Winery, and Ostrich Land.
The first stop is Foxen Winery where Miles, played by Paul Giamatti , and Jack, played by Thomas Haden Church, help themselves to full glasses of wine when the tasting room attendant turns around. With many photo opportunities, this "tasting shack," renamed "foxen 7200" features small production and sustainably-farmed Bordeaux and Cal-Ital-style wines using a "minimalist" winemaking approach.
Blackjack Ranch was the second of six wineries visited by Jack and Miles. The ranch offers a flight of 11 wines for Sideways-lovers to enjoy at their California rustic-style tasting room. The building was constructed from salvaged materials from the buildings which previously existed on Blackjack Ranch.
Guests will next experience a flight of wines at Kalyra Winery, where Miles and Jack met Stephanie, played by Sandra Oh, a flirtatious tasting room attendant who becomes the object of Jack's affection. Kalyra Winery, whose name is a translation from the Australian Aboriginal meaning 'A Wild & Pleasant Place,' offers a laid-back beachcomber's vibe in a tiki room setting and features all of Kalyra Winery's wines to sample. Guests will be served from the bar featured in the Sideways movie after enjoying a catered lunch from Panino Restaurant on Kalyra's full-length deck.
Next on the itinerary is a quick photo stop at the Oak tree where Jack faked a car crash to account for Miles' broken nose. This famous tree now stands in the middle of a newly built storage facility in the Santa Ynez Valley. The little-known location is a guest favorite and is only known by the local residents.
A visit to Ostrich Land delivers 33 acres inhabited by free-roaming ostriches and emus. The ostriches are seen while Miles, Jack, Maya, and Stephanie drive to the picnic as well as later when Jack gets acquainted with them on his "run" from Buellton to Solvang. Guests get the opportunity to feed these large African animals while viewing some of the best scenery in the Santa Ynez Valley.
Grapeline Wine Tours began in Temecula in 2002, and expanded to Paso Robles in 2004 and Santa Barbara in 2007. Serving more than 25,000 wine tasters annually, it is the largest wine tour company in Southern and Central California, and also the top rated wine tour company on popular user-review sites Yelp and TripAdvisor.
The Sideways Lovers Wine Tour departs at 10am from all local hotels and concludes at approximately 4pm. It is available for small private groups of 10-14 guests and pricing is $249 per person from Solvang and Buellton or $269 per person from Santa Barbara, all inclusive. This tour can be booked any day of the week. Reservations are required.
Reservations are available by calling Grapeline at 1 888 8-WINERY.