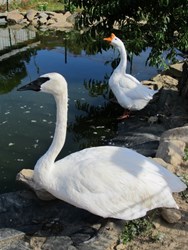 We encourage those of you who are also animal lovers to join us in supporting this wonderful project and organization.
(PRWEB) January 17, 2014
Animal Support and its cofounders are delighted to sponsor the development of a new community garden within its wildlife sanctuary. Foster Parrots is devoted to the preservation of exotic birds and animals which are kept on a sanctuary of undeveloped natural habit in Rhode Island.
"We have been supporters of Foster Parrots for some time now, and are very excited about the new community garden project," says Julian Omidi, cofounder of Animal Support. "We encourage those of you who are also animal lovers to join us in supporting this wonderful project and organization. The garden will be a place of natural beauty where children can learn to nurture and respect their environment, where animals can live in peace and protection, and where community groups or individuals can create a garden – or just enjoy one."
The New England Exotic Wildlife Sanctuary Community Garden will give the surrounding urban community the opportunity to cultivate different patches of ground. Community members can use the garden to educate themselves about humane, ecological and/or horticultural matters, or just enjoy the beauty of the individual garden projects and terrain.
The garden will also be used by the Humane Education Program to introduce school children to the local ecology. Kids from nearby urban areas can explore the habitat, introduce themselves to the local flora and fauna, and gain an appreciation for their environment and the animals that dwell within it. The program workshops will also introduce kids to the parrots living in the sanctuary, and teach them to respect and appreciate wildlife in all of its forms. The Humane Education Program brings Providence, Rhode Island inner city children to nature and allows them to walk through the forests and along the streams of the country right outside the city.
The New England Exotic Wildlife Sanctuary serves as the permanent sanctuary arm of Foster Parrots (http://www. fosterparrots.com). It is currently under development as a regional Center for Humane Education and avian/exotics services and serves as the center for local and national educational outreach programs, student internships, and adoption center. The Sanctuary is located on 15 acres in beautiful Hope Valley, Rhode Island. In addition to housing parrots, the sanctuary currently shelters tortoises, African crested porcupines, aquatic turtles, peacocks, chickens and many species of waterfowl. Foster Parrots also offers a virtual adoption program, where sponsors can donate funds for the care of a parrot.
Animal Support (http://www.animalsupport.org) is dedicated to addressing pet over-population and abuse by promoting charities working on behalf of animal well-being. The organization was founded by brothers Dr. Michael Omidi and Julian Omidi along with long-time friend Maria Abaca to advocate for animal protection, rescue, adoption, and spay and neuter laws. Animal Support does not accept donations but encourages direct contributions of money and talents to the charities and organizations featured on our website. For more information about Animal Support, send a message using the website's Contact Us function, check out Animal Support on Facebook, Twitter, Google+, and Pinterest.