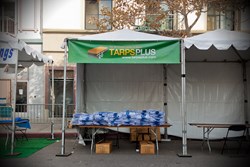 Palmdale, CA (PRWEB) January 20, 2014
Every year the United States has a handful of tornadoes and hurricanes, leaving people without shelter or damaged homes. Leading US tarp supplier tarps plus has thought of a unique way to help these communities and at the same time connect with their customers more intimately. Every year, Tarps Plus has access stock. Like most companies certain types of items sell better than others. Tarps Plus will be taking some of their overstocked tarps and creating truckload care packages for natural disasters that hit the Continental US. This new program will be called the "Emergency Relief Squad". The program consists of the company loading up pallets of tarps, bottled water, clothing, tents and other various supplies that are used for people after a tornado or hurricane. The supply goods will be stored at the Texas facility and be dispatched in the wake of a tornado or hurricane.
Tarps Plus founder and CEO Michael Stein said, "We are very excited about the Emergency Relief. We figured if we have the excess stock of tarps, this would be the most gratifying way to unload them."
Stein says they are also actively looking for other companies to join them on donating products for people in need in the wake of a natural disaster. All the supplies will be stockpiled at the Abadak headquarters in Texas. Abadak Inc. is the mother company of Tarps Plus.
The plan of action is to have pallets of prepackaged supplies to be loaded on to a company truck, travel to the disaster location and distribute the supplies as well as help the community.
For more information about the Abadak Emergency Relief Squad Program, please go to Abadak.com and Tarpsplus.com
Phone: 1-800-838-3057