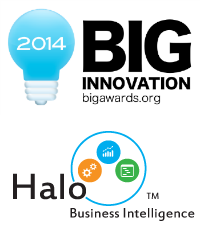 At the forefront of holistic business intelligence, Halo BI is proving that 2014 will be one of the most innovative years in recent history.
San Diego, CA (PRWEB) January 20, 2014
Halo Business Intelligence (Halo BI), a global provider of business intelligence software, won a 2014 BIG Innovations Award for Halo Span, its unique solution that allows businesses to realize the economic value of their business information assets. Halo Span expands BI beyond a company's confines and enables them to safely and securely share data with partners, suppliers and customers, allowing them access to meaningful information that drives business processes, optimizes decision making, and promotes innovation.
The BIG Innovations Awards program, created by the Business Intelligence Group, recognizes top innovations from companies and organizations worldwide.
"We are honored by this recognition," said Ray Major, President and CEO of Halo BI. "Halo Span is an exciting example of the future of BI, and our holistic approach to business intelligence. Information created by a company's data collection processes need not be merely an operational by-product, but something that can be converted into an asset with real, measurable economic value. Halo Span enables companies to support their entire business ecosystem with actionable information and predictive analytics, which is key to maximizing ROI."
Halo Span's sophisticated features allow companies to share key data, such as customer demographics, sell-through schedules, sales and inventory forecasts and predictive models; and eliminates the need for IT resources to generate and email reports. Mobile and flexible, it simplifies BI access and facilitates a comprehensive approach to answering business questions.
"Traditional BI focuses on allowing users to pour over data about the past and things they can't change. Halo Span on the other hand is a self-service tool that helps our customers look to the future and see where they want to go," Major added.
"We are proud to recognize companies like Halo BI, which are driving business and consumer change with creativity and intelligence," said Russ Fordyce, Managing Director of the Business Intelligence Group. "At the forefront of holistic business intelligence, Halo BI is proving that 2014 will be one of the most innovative years in recent history."
About Business Intelligence Group
The Business Intelligence Group, creators of the BIG Awards, was founded with a mission of recognizing true talent and superior performance in the business world. Unlike other award programs, real business people, those with experience and knowledge, judge the BIG Awards. The organization's proprietary and unique scoring system selectively measures performance across multiple business domains and then rewards those companies whose achievements stand above their peers.
About Halo Business Intelligence
Halo BI, established in 2008, is a San Diego-based, Microsoft Gold Certified company offering a full suite of business intelligence solutions. The company has more than 300 customers in construction, health care, hospitality, manufacturing, professional services and retail worldwide. Developed to leverage common business software systems, open technologies, and mobile devices like smartphones and tablets, Halo BI frees non-technical users to do their own data mining, analysis and reporting without relying on IT staff or proprietary applications. Additional offices are in Australia, Austria, China and New Zealand. For more information, contact Halo BI at (888) 300-0219, email: info(at)halobi(dot)com, or on the web: http://www.halobi.com