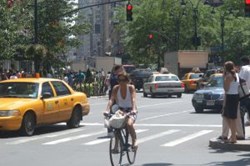 The DOT reports that, in 2012, Brooklyn had the highest number of fatalities and injuries with five people killed and 1,605 injured
New York, N.Y (PRWEB) January 22, 2014
Bicycling, even in warm weather and with ample lighting, can be a dangerous activity in New York City. According to the New York City Department of Transportation, 18 people died and 3,882 were injured in the year 2012 due to bicycle accidents. The DOT reports that, in 2012, Brooklyn had the highest number of fatalities and injuries with five people killed and 1,605 injured. The report also states that five bicyclists were killed and 789 were injured in Queens during the same year.
"The risk bicyclists face increase significantly during the winter because of reduced visibility," says New York personal injury lawyer Kenneth A. Wilhelm. "There are of course several steps bicyclists can take during the winter to minimize their chance of getting into a serious injury accident."
Here are some of the safety measures bicyclists can take during the winter season:

Make sure that you are dressed appropriately. Wear a warm hat or a nylon skull cap under your helmet. You could wear a ski helmet for additional warmth. Make sure you are wearing goggles to keep the snow out of your eyes. Also, wear brightly colored clothing to ensure that you are visible to motorists.
Use as many lights as you can in the front and rear. Also use a light on your helmet that will help show you the way and also make you more visible to other drivers.
Your bike should be well-maintained. Make sure your tires and brakes are in good working order. Using wider snow tires or studded tires can also help with winter riding.
If visibility is poor or if the snowfall is heavy, do not ride.
Put reflective tape on your clothing and your bike to ensure more visibility.
Always make eye contact with the motorist especially at street intersections. Do not make a move until you are sure that the motorist has seen you.
About the Law Offices of Kenneth A. Wilhelm
The Law Offices of Kenneth A. Wilhelm is a personal injury litigation firm with an unwavering dedication to its clients. With more than 42 years of experience, our firm strives to obtain the best compensation for those who have been injured or those who have lost a loved one due to an accident or by someone else's negligence. We handle cases dealing with personal injury, medical malpractice, wrongful death, train accidents, workers' compensation, dental malpractice, motor vehicle accidents, pedestrian accidents, rape, paralysis, comas, seizures, false arrest, lead poisoning, trips and slips and falls, falls on sidewalks or stairs, elevator accidents, construction accidents, Erb's palsy, cerebral palsy, brain damage, blindness, hearing loss, dog bite cases, fire and smoke inhalation accidents, bicycle accidents, falls from windows or scaffolds, food poisoning injuries, and many other types of accidents and injuries.
Please contact our New York personal injury attorneys TOLL FREE 24 hours a day, 7 days a week at 1-800-WORK-4-YOU (1-800-967-5496). WE CAN EVEN COME TO YOU. There is no attorneys' fee unless we recover money for you. We can also help with personal injury cases in New Jersey, Connecticut, Pennsylvania, or Florida. If you have been seriously injured in any of the 50 U.S. states, please call us and we will try to help you with your case.
Other TOLL FREE phone numbers for us are:
1-800-RADIO-LAW, 1-888-WYPADEK, OR 1-800-LAS-LEYES
The Law Offices of Kenneth A. Wilhelm
445 Park Ave, 9th Floor
New York, NY 10022
(212) 545-7373
Please visit us at: http://www.WORK4YOULAW.com