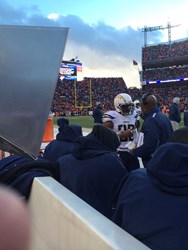 Since 1999, Big Fogg has provided the ultimate in sideline cooling and heating for our team. The Company is not only professional, but extremely knowledgeable and the sidelines systems work excellently
(PRWEB) January 18, 2014
These three major football events will highlight a very busy NFL postseason for Big Fogg with either its outdoor cooling or its heating systems utilized on the sidelines for these three games.
Last weekend, Christopher Miehl, president of Big Fogg, was on the sidelines for the exciting Denver Bronco-San Diego Chargers game. He stated, "Denver just started very quickly out of the gate and its defense pressed Rivers so hard in the first half that it ended up with little offense. The Chargers made adjustments in the second half and made it close, but it was too little, too late."
Bob Wick, the San Diego Chargers Equipment Manager, commented on Big Fogg's involvement with the NFL, stating, "Since 1999, Big Fogg has provided the ultimate in sideline cooling and heating for our team. The Company is not only professional, but extremely knowledgeable and the sidelines systems work excellently."
Big Fogg will supply its heating benches for the Seahawks-49ers playoff game in Seattle on Sunday, January 19th and radiant heaters at Sports Authority Stadium in Denver. 2014 will mark the 15th year in a row that Big Fogg was hired to set up its Misting Fans on the sidelines of the Pro Bowl in Hawaii.
At the National Hockey League Winter Classic in Ann Arbor, Big Fogg supplied its Heating Benches for both teams. Besides 50 college teams and the National Football League, its company's roster of prestigious clients also includes Disneyland, SeaWorld, American Idol, movie sets, Phish concert, Woodstock, the Coast Guard, Guantanamo, Cuba, the Green Zone in Iraq, Major League Baseball, the Olympics, the World Cup, Professional Golfers' Association of America, Major League Soccer USA, Fender Guitar and NASCAR.
Big Fogg has been designing, building and installing its Misting Systems across the United States and Canada since its inception in 1999. Big Fogg specializes in providing outdoor cooling and heating systems in restaurants, residences, resorts, hotels and even on cruise lines. As Big Fogg continues to expand, it is actively looking for distributors to represent its line of cooling and heating products.
The industrial cooling/misting market has recently very active for Big Fogg, providing many jobs in the odor control, dust suppression, humidification, transformer cooling and factory cooling environments.
Big Fogg also sells to the US military, with an emphasis on its six Fan Misting Trailers. In the international market, it sells its misting systems, misting fans and inflatable misters. Big Fogg's management spent two weeks in Vietnam pursuing sales opportunities in the SE Asia marketplace.
Please contact Big Fogg at 888-853-1728 for rental or sales information on outdoor heating, cooling and misting systems at your next event or gathering