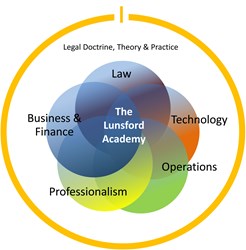 The focus of the program will be to develop "Renaissance lawyers" for the Information Age.
Highland Heights, KY (PRWEB) January 20, 2014
The Northern Kentucky University Chase College of Law announced today it has approved a new curriculum for the W. Bruce Lunsford Academy for Law, Business + Technology, with the first courses being offered in the 2014-15 academic year.
The W. Bruce Lunsford Academy for Law, Business + Technology will be an honors immersion program operated by the NKU Chase Law + Informatics Institute. The focus of the program will be to develop "Renaissance lawyers" for the Information Age. The program's specialty courses enhance the comprehensive legal education provided by Chase by emphasizing legal technology, business, finance, leadership and other skills critical to the future of the practice of law.
Through the program's technology-focused, skills-based curriculum, students will acquire the fundamental skills that will make them more productive for their clients, more attractive to employers and better prepared to practice law upon graduation. Many of the courses developed for the honors program will be available for other students enrolled at Chase. Students are also encouraged to expand their skills training with full-time field placements, which provide students with professional, live-client experience while in law school.
The Lunsford Academy curriculum combines quantitative analysis and research, high-level legal analysis, and best business practices to manage the constant change at the heart of modern legal practice. "This program will become an integral part of our curriculum and will provide Chase students with a dynamic environment in which to learn the skills they need to succeed in a technology-driven world," said Chase Dean Jeffrey A. Standen.
The announcement regarding the opening of the Lunsford Academy has received a warm reception. The E-Lawyering Task Force of the ABA's Law Practice Management Section named Chase as one of "13 Top Law Schools Teaching Law Practice Technology." With the approval of courses specifically designed to implement the Lunsford Academy's approach to preparing Renaissance lawyers, Chase is at the forefront in the transformation of legal education for the 21st Century.
Lunsford, a 1974 Chase graduate, is chairman and CEO of Lunsford Capital, LLC, a private investment company headquartered in Louisville, Kentucky. In September 2013, the NKU Board of Regents approved the name of the new program as the W. Bruce Lunsford Academy for Law, Business + Technology, in recognition of Lunsford's ten-year, $1 million commitment to the program.
"I am thrilled with the way that Chase has embraced and implemented this program to provide students with such a broad-based curriculum," Lunsford said. "While working full-time as a CPA during the day, I attended law school at Chase in the evenings. I was fortunate to build my career upon the strong foundation that Chase provided to me, and I am hopeful that this program will allow Chase students to be fully prepared for the opportunities that will be presented to them in the years ahead."
In addition to taking the program's required and elective law and informatics courses, students will also be able to earn one of three joint degrees. Chase partners with the NKU College of Informatics to offer a Juris Doctor/Master of Business Informatics and a Juris Doctor/Master of Health Informatics, and with the NKU Haile/US Bank College of Business to offer a Juris Doctor/Master of Business Administration.
Professor Jon Garon, director of the Law + Informatics Institute, explained that "all lawyers need business education, information technology and intellectual property knowledge, and law practice management experience to compete in today's global marketplace. The Lunsford Academy is the first law school curriculum in the United States to focus on this new core of professional education."
The NKU Chase Law + Informatics Institute (http://www.lawandinformatics.org) provides critical interdisciplinary research regarding law, regulation and industry practice as it is applied across complex information systems, emerging technology and all areas of law. While not limited to any legal field, the Institute emphasizes intellectual property law, privacy law, business and securities law, international law, and evidentiary rules because the creation, acquisition, aggregation, security, manipulation and exploitation of data have the largest legal and societal consequences in these fields.
Since 1893, NKU Chase College of Law (http://chaselaw.nku.edu/) has educated individuals who make immediate contributions to the legal profession and to their communities. With a collegial, student-centered environment in full-time and part-time programs, Chase provides an intellectually rigorous education in legal theory and professional skills; offers practical training through its curricular offerings, co-curricular programs and specialized centers; and instills the ideals of ethics, leadership and public engagement.
To learn more about the program, see W. Bruce Lunsford Academy for Law, Business + Technology
### NKU ###
For more information contact Becky Fitzsimmons at (859) 572-5343 or fitzsimmob1(at)nku(dot)edu.