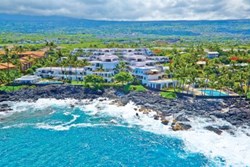 "I would like to take this opportunity to thank all of the Outrigger-managed Wyndham properties for going above and beyond in making our RCI guests feel relaxed and satisfied during their vacation time spent at our Hawaii properties," said Bob Berges
HONOLULU, HAWAII (PRWEB) January 20, 2014
Outrigger Enterprises Group, which manages the on-property and hospitality operations of five CLUB WYNDHAM® properties in Hawaii, is pleased to announce each resort has received top property designations by RCI, the worldwide leader in vacation exchange.
Receiving the highest honor, an RCI Gold Crown Resort® property designation, are Wyndham at Waikiki Beach Walk (Oahu); Royal Garden at Waikiki (Oahu); and Kona Hawaii (Hawaii Island). The Mauna Loa Village and Royal Sea Cliff resorts on Hawaii Island each received an impressive RCI Silver Gold Crown Resort® property designation.
To be recognized with an RCI Gold or Silver Crown Resort property designation, each resort must have consistently attained high levels of excellence in resort accommodations, hospitality and member experience ratings as measured by RCI Subscribing Member Comment Cards.
"I would like to take this opportunity to thank all of the Outrigger-managed Wyndham properties for going above and beyond in making our RCI guests feel relaxed and satisfied during their vacation time spent at our Hawaii properties," said Bob Berges, CMCA, Outrigger's Regional Director, Hawaii, for Outrigger-managed CLUB WYNDHAM resorts.
"There are five measurements used in rating the RCI experience at our resorts: Check-in Check-out, Resort Hospitality, Resort Maintenance, Unit Maintenance and Unit Housekeeping. The teams at these resorts have proven what can be accomplished when working together. Thanks to all for a great accomplishment," Berges said.
"RCI's Resort Recognition Program helps ensure that our RCI affiliated resorts adhere to RCI's standards for quality in accommodations, hospitality and member experience," said Gordon Gurnik, president of RCI. "We are thrilled to recognize those who have attained this designation and continue to work to offer top vacation destinations to our 3.7 million members worldwide."
Download Images here: http://tinyurl.com/jw8pl5u Photo credit: Outrigger Enterprises Group
About Outrigger Enterprises Group
Outrigger Enterprises Group is one of the largest and fastest growing privately-held leisure lodging, retail and hospitality companies in the Asia-Pacific, Oceania and Indian Ocean regions and continues to expand its presence throughout these areas. A family-owned company with 66 years of hospitality experience, Outrigger runs a highly-successful, multi-branded portfolio of hotels, condominiums and vacation resort properties, including Outrigger® Hotels and Resorts, OHANA® Hotels and Resorts, Embassy Suites®, Holiday Inn® Best Western®, Wyndham Vacation Ownership® and Hilton Grand Vacations. Currently, Outrigger operates and/or has under development 45 properties with approximately 11,000 rooms located in Hawaii; Australia; Guam; Fiji; Bali; Thailand; Mauritius; Vietnam; and Hainan Island, China. Outrigger Enterprises Group also operates and develops hotel properties and hospitality-related retail and real estate opportunities for partners in Hawaii, the Pacific, and Asia. For on-line information, log on at http://www.outriggerenterprisesgroup.com and http://www.outrigger.com.
About Wyndham Vacation Ownership
Wyndham Vacation Ownership, a member of Wyndham Worldwide's family of companies, is the world's largest vacation ownership business, as measured by the number of vacation ownership resorts, individual vacation ownership units and owners of vacation ownership interests. Wyndham Vacation Ownership develops, markets and sells vacation ownership interests and provides consumer financing to owners through its four primary consumer brands, CLUB WYNDHAM, WorldMark® by Wyndham, Wyndham Vacation Resorts Asia Pacific and Shell Vacations. As of December 31, 2012, Wyndham Vacation Ownership had developed or acquired more than 185 vacation ownership resorts throughout the United States, Canada, Mexico, the Caribbean and the South Pacific that represent more than 23,000 individual vacation ownership units and more than 900,000 owners of vacation ownership interests. Wyndham Vacation Ownership is headquartered in Orlando, Fla., and is supported by more than 15,000 employees globally. http://www.wyndhamvacationresorts.com
About RCI
RCI is the worldwide leader in vacation exchange with more than 4,000 affiliated resorts in approximately 100 countries. RCI pioneered the concept of vacation exchange in 1974, offering members increased flexibility and versatility with their vacation ownership experience. Today, through RCI® Weeks, the traditional week-for-week exchange system, and RCI Points®, the industry's first global points-based exchange system, RCI provides flexible vacation options to its approximately 3.7 million RCI subscribing members each year. RCI's luxury exchange program, The Registry Collection®, is the world's largest program of its kind with more than 200 affiliated properties either accessible for exchange or under development on six continents. RCI is part of Wyndham Exchange & Rentals and the Wyndham Worldwide family of brands. For additional information visit our media center, rciaffiliates.com or The RCI Blog. RCI also can be found on Facebook, YouTube and Twitter.
# # #