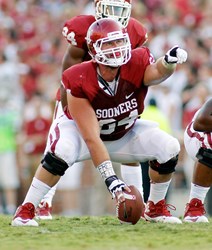 "We are proud that Gabe Ikard is the recipient of an award that salutes the character and service of a man like Pat Tillman."Oklahoma Head Coach Bob Stoops
St. Petersburg, FL (PRWEB) January 19, 2014
Since setting foot on the field as a University of Oklahoma lineman, Gabe Ikard has been impressive. And in being awarded the East-West Shrine Game Pat Tillman Award, it's obvious that the trend continues. Annually presented at a banquet the evening before the game, the award honors perseverance and talent during practice week and also recognizes the recipient's overall achievements and conduct.
Upon hearing of the award, Oklahoma Head Coach Bob Stoops said, "Gabe Ikard has truly exemplified what it means to be a student-athlete and has served as a tremendous representative of the University of Oklahoma and our football program. Gabe anchored our offensive line the past three seasons and graduated in May with a perfect 4.0 GPA, earning Academic All-America honors and consensus All-America accolades as one of the top centers in the nation."
Certainly, Ikard has been one of the Sooner's more durable stars for his entire college career—starting 50 of 52 games in four years, and serving as a team captain the past two seasons. In just his freshman year, Ikard started 12 games at left guard. He moved to center after the third game his sophomore year and held that post all the way through Oklahoma's 45-31 2014 Sugar Bowl victory over Alabama.
As Stoops pointed out, his star lineman's tremendous athleticism has been well acknowledged by those interested in college football. In 2010, Ikard was named a Rivals.com First-Team Freshman All-American, and he continued to appear on numerous Big 12 and national all-star lists in 2011 and 2012. Among Ikard's numerous honors as a senior in 2013, the stalwart Sooner was named to the CBS Sports, Walter Camp, and AFCA Coaches All-American squads as a first-team selection.
The all-star center is winner off the field as well. A 4.0 GPA in multidisciplinary studies (with a medical science focus), earned Ikard an NFF Scholar Athlete designation, and he was also named CoSIDA Academic All-American of the Year. Additionally, Ikard received the Wuerffel Trophy which is given to the college player who best combines exemplary community service with athletic and academic achievement. He also received the Lee Roy Selmon Spirit Award for best representing the qualities of character that Selmon displayed in emphasizing academics and community service.
Stoop said, "Gabe was voted as captain by his teammates at Oklahoma the past two years because he's a leader and a winner. On behalf of our coaching staff and everyone at OU, we are proud that Gabe Ikard is the recipient of an award that salutes the character and service of a man like Pat Tillman. Congratulations to Gabe and the rest of the young men being honored this evening."
About the East-West Shrine Game
The East-West Shrine Game is the longest-running college all-star football game in the country and features some of the highest-rated players in the projected NFL draft ranking. While the teams are divided by East and West, the players come together for the beneficiary of the event, Shriners Hospitals for Children. For more information, visit http://www.shrinegame.com.
About Shriners Hospitals for Children
Shriners Hospitals for Children is changing lives every day through innovative pediatric specialty care, world-class research and outstanding medical education. The 22 locations in the United States, Canada and Mexico provide advanced care for children with orthopaedic conditions, burns, spinal cord injuries, and cleft lip and palate.
Shriners Hospitals for Children is a 501(c)(3) nonprofit organization and relies on the generosity of donors. All donations are tax deductible to the fullest extent permitted by law. To learn more about Shriners Hospitals for Children, please visit http://www.shrinershospitalsforchildren.org.