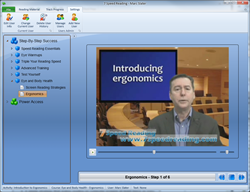 The adaptability of this positive mindset can shape every aspect of a person's life resulting in a more skillful, happy and capable individual.
New York City, NY (PRWEB) January 18, 2014
People have dreams, and most often dream of and hope for positive outcomes in their lives. Self-improvement expert Henrik Edberg recently talked with the 7 Speed Reading™ blog editor about the significance of positivity, and how it can help people realize their dreams. No matter their priorities, careers, or philosophy, many people can benefit greatly by embracing a positive mindset as a way of life, Edberg stated. The adaptability of this positive mindset can shape every aspect of a person's life resulting in a more skillful, happy and capable individual. Edberg is a champion of the idea that lifelong learning and positivity are the two necessary ingredients for success. If a person wants to learn how to speed read or fly an airplane, for example, the premise is the same for both. They need a professionally developed learning plan, but more importantly, a positive attitude.
Henrik Edberg makes apparent in the recently-published interview that people's acts are influenced by their psychology. If someone's state of mind is tuned to a positive, upbeat wavelength then any task, learning endeavor or project becomes feasible. The positivity expert shared his positivity tenets, urging people to find in every task a positive, beneficial purpose. This allows people to gain the momentum to engage with that task as it provides them a clear idea of what their goal is. Focusing on what a project or task will offer in terms of educational gains, skills and knowledge establishes a realistic yet confidence-based attitude.
Edberg also shared his views on procrastination, and how he found a way of combating this self-sabotaging habit. He proposed that a person shouldn't be intimidated by a challenging task, because this is what automatically urges them to postpone it. He instead recommended that people confront their urge to procrastinate by engaging with the task at hand even for just one minute. By devoting no more than 1 or 2 minutes to a challenging task, said Edberg, the "unfamiliarity factor" is out of the picture and so the procrastinator immediately realizes that the task at hand is not that difficult after all. If a person wanted to learn how to speed read for instance, devoting just a few minutes learning about a technique such as tracking will entice them to engage with the process in a more systematic manner. Using Edberg's suggestions for positivity help anyone to attempt something that once seemed terrifying and impossible.
For more information about the benefits of using 7 Speed Reading, please visit the official website at http://www.7speedreading.com.
About 7 Speed Reading™
7 Speed Reading is the only modern speed reading software that uses the latest technology to produce superior results.
The software provides its users with a new way to master speed reading that guarantees three times the reading speed along with improved memory and comprehension.
The software is poised as the most comprehensive speed reading system anywhere. It contains seven learning strategies, fifteen software activities, video training, advanced tracking capabilities and many more exciting features.