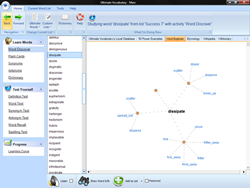 ...as language evolves, miscommunication might occur if older and newer generations don't make an effort to share their lexicons with one another.
New York City, NY (PRWEB) January 20, 2014
eReflect, developer of Ultimate Vocabulary™ software, is interested in finding and discussing words that have been recently added to the English language, created to express ideas and inventions that were born in the 21st century. In a recent blog post, the editor makes the case that as language evolves, miscommunication might occur if older and newer generations don't make an effort to share their lexicons with one another. It's not only grandparent-grandchild conversations that fail; even a conversation between a parent and a child can be problematic — which makes the need for vocabulary sharing even more pronounced. Just as words like alienism and apricity will confuse young people, words like locavore, selfie and upcycle will more likely
leave older people bewildered.
To emphasize the importance of enriching vocabulary with new words so as to keep up to date with the latest linguistic creations, eReflect has made a point of sharing with Ultimate Vocabulary website readers words that all generations should have in their lexicon in 2014. Among these words is locavore, a word describing people who consciously choose to consume only locally produced foods. Eating anything raised or grown within a 100-mile radius makes a person a locavore. This is a word that underlines how lifestyle choices are not always marching forward into a technologically-advanced future; in many ways, people still cherish and seek out a simpler, healthier lifestyle. This has led to both the increasing popularity of the locavore movement, as well as its presence in the language. Ironically, even if today's grandparents don't know the meaning of locavore, this doesn't mean they aren't familiar with the concept, since people growing up in the 30s and 40s were generally locavores, although they didn't use that word to describe their eating habits.
Upcycle is a word with an origin attributed back to 1994. Upcycling refers to the process of using otherwise useless or discarded objects in order to create a fully functional and useful new object which also has a perceived higher or better value. eReflects believes that concepts like upcycling and locavore perfectly reveal micro-level social and cultural changes, which in turn might expose greater changing trends in urban living. Keeping up with new words entering the English language is a fun way for building vocabulary and ensures that all people, irrespective of age, speak the same language.
For more information on how you can benefit from Ultimate Vocabulary, please visit its official website, http://www.ultimatevocabulary.com.
About Ultimate Vocabulary™
Ultimate Vocabulary provides a proven and powerful platform, built to improve anyone's vocabulary.
The interactive self-improvement system provides more learning tools than any other program on the market, as well as more information on words.
The Ultimate Vocabulary software provides each and every user with a personal computer tutor. Providing a step-by-step guide to learning a powerful vocabulary, Ultimate Vocabulary is the learning tool everyone can benefit from.
Of course, the software is also backed by eReflect's iron-clad money back guarantee.