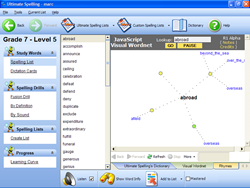 Games and activities let students know learning English is not only doable, but fun too.
New York City, NY (PRWEB) January 21, 2014
StudyCat shows that learning through play and fun is the key to successful English language learning. In a recent interview published on eReflect's Ultimate Spelling blog, Daniel Lambert and the rest of the app development team at StudyCat explain that, especially for young learners, efficient learning is possible through fun activities. StudyCat's philosophy is that if an activity is fun then learning will naturally follow. Teaching spelling, vocabulary and reading to young non-English students can be very challenging, and that's why fun activities and games should be prioritized, says Lambert. Games and activities let students know learning English is not only doable, but fun too.
According to Lambert, the process behind their product started in a different direction. Instead of creating fun games out of existing lessons on spelling, pronunciation, and vocabulary, the development team at Studycat first created fun games and apps and then integrated the various learning goals each game should focus on. StudyCat capitalizes on the ever-growing popularity of smartphones and tablets which allow young students to engage with learning through exciting apps and online activities. Infusing learning with fun and play is a tried and tested method that has found its medium par excellence: hand-held devices. These gadgets make learning seem less of a chore and more of a playtime and allow the student to be more receptive and focused on the activity at hand, resulting in better learning outcomes.
eReflect supports integrating new technologies in the service of learning, and notes that it is gradually becoming an imperative approach in ESL teaching. More and more schools are enriching their classroom activities with technology-based games to ensure the interest factor is sustained at high levels.
Especially for demanding aspects of the English language such as phonics and spelling rules, apps such as those developed by Daniel Lambert and his team show that no matter the difficulty, any class can be a fun class. Teachers shouldn't be afraid to integrate apps and other tech-mediated instructional tools in the service of ESL teaching. Students want to play and then learn, and teachers need to take advantage of this.
For more information about how Ultimate Spelling software can improve spelling performance for you and your family, please visit the official website at http://www.ultimatespelling.com.
About Ultimate Spelling™
Ultimate Spelling provides a modern and easy to use spelling software that has been designed with one goal in mind – making children want to learn.
It is a fast and easy way to master even the most complicated spelling, without the need to write long lists or complete boring tests.
In fact, Ultimate Spelling provides more than just spelling help. It is a complete educational resource that boosts all level of a child's literacy.
Containing a personal computer tutor, Ultimate Spelling is the most realistic step-by-step guide to flawless spelling ability.