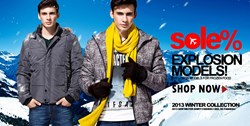 (PRWEB) January 25, 2014
Recently, Skmen.com, a leading brand of men's and women's clothes, has unveiled its new selection of cheap men's suits. To celebrate the coming of the Chinese New Year, the company has launched a special offer on these fashionable items. According to a senior spokesman for the company, the promotion will be valid until February 15, 2014.
In addition to men's suits, the company is selling a lot of new designs at its online shop. All the company's clothes can make their wearers look more handsome. A lot of the international customers like them.
The CEO of the company says, "We are happy to announce our new items. Along with the cheap men's suits, we have also released many fresh products, including men's outerwear jackets, long sleeve shirts, suits, leather jackets, tweed coats and so forth. Now, all of them come with discounted prices, up to 40% off. Those who are interested in them should visit our website as soon as possible. "
What's more, it is working hard to create the best products for customers throughout the world. The company has its own designers, so it can always make what clients actually want. To get more inspiration, its top designers always communicate with frequent callers through the internet.
About Skmen.com
Skmen.com, a China-based company founded in 2009, is one of the leading suppliers of men's and women's high quality clothes. It has more than 5000 customers from every part of the world, helping the people develop self-esteem, confidence and love of learning. For more detailed information about Skmen.com and its various kinds of clothes, readers can visit http://www.skmen.com/product-men-s-suits-009009.aspx.