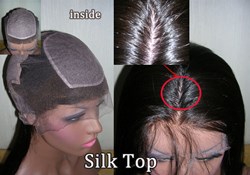 Uniwigs silk top lace wigs gives the ultimate appearance of hair growing from the scalp.
Chino Hills, CA (PRWEB) January 19, 2014
Uniwigs.com has been providing the best wigs on the market for many years. They offer a range of hair products, like full lace wigs, lace front wigs, flip in hair extension, and clip in hair extensions, lace closures and so on. You name it, they have it. Now they just launched their new products that are silk top full lace wigs, which are the most realistic lace wigs.
What are silk top lace wigs? The silk top consists of a layer of lace, and silk fabric on the top front of the cap. When the hair is knotted, the knots are below the silk concealed between the layers, the hair is then injected through the silk material making the knots 100% invisible giving the illusion that the hair is actually growing out of your scalp. There is no other ventilation technique that creates a more flawless appearance than hidden knots on a silk top, people don't need to bleach the knots, and people don't need to worry about any other techniques to make the knots invisible or less visible.
Lace wig technology is advancing with the 2 layer silk cap. It provides the most realistic scalp the market has to offer.
Not only does it feature the irreplaceable 2 layer silk cap at the crown, but Uniwigs uses super fine lace for a totally undetectable look.
What are knots? Strands of hair are tied to the lace base using a knot. Knots are usually dark large and visible giving an unnatural appearance. Uniwigs bleaches these knots around the perimeter to make the knots appear smaller, lighter and less visible.
Silk Cap are located at the crown of the head where parts are more likely to be made so when hair is parted, knots are invisible giving the ultimate appearance of hair growing from the scalp.
About uniwigs.com
Uniwigs only sell quality human hair wigs, synthetic wigs and hair pieces like lace closure, manufactured by experts who have decades of experience in wigs making. All wigs are shipped using renowned couriers so people know they are only putting their photographs onto a quality website.