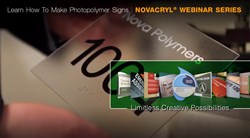 Novacryl® webinar series provides sign designers and fabricators with information on the latest materials and techniques to be successful while being environmentally responsible.
Fairfield, NJ (PRWEB) January 21, 2014
Sign designers, fabricators and architects have a unique opportunity to learn more about the benefits of photopolymer signs by participating in a monthly webinar series produced by Nova Polymers, the world's largest manufacturer and distributor of photopolymer sign products. The webinar series began on January 8th and was so successful that additional webinars are now scheduled for the first Wednesday of each month, beginning on February 5th.
The webinars address the diverse range of photopolymer substrates that can be used to create ADA-compliant signage, offering virtually limitless creative possibilities for interior and exterior signage. In a recent poll, the Nova Polymers' Novacryll® Designer series, the leading photopolymer substrate for ADA Braille and accessible room signage, was considered "artwork" rather than wayfinding signage, reinforcing the aesthetic appeal of the signage.
The Novacryl® webinars also address the environmental benefits of photopolymer signage. Novacryl® photopolymer is processed in plain tap water so it is environmentally friendly and user friendly. Novacryl® can be bonded to cutting-edge sign materials including 3-form's EcoResin panels, which are non-toxic and have up to 40% recycled content. 3form® is recognized worldwide for innovative materials offered to architects and sign designers.
"We are proud to sponsor this exciting new educational series. Sign designers and fabricators need the latest materials and techniques to be successful while being environmentally responsible. These webinars are an easy and effective way to learn from industry experts," said Mike Santos, Director of Sales and Marketing for Nova Polymers.
Upcoming dates for the monthly Novacryl® webinars, to be held the first Wednesday of the month, are February 5th, March 5th, and April 2nd from 1:30 p.m. to 2:30 p.m. EST. For more information and to register for the webinars, visit http://www.novapolymers.com/novacryl-product-webinar.
About Nova Polymers
Nova Polymers is a global manufacturer and distributor of photopolymer sign products.
Nova Polymers developed the world's first clear photopolymer sign material (Novacryl®) that continues to have a profound effect on the creative potential of the sign design and fabrication industries. The company continues to work with the architectural signage and design community to expand its high quality and progressive product line in ways that add creativity and flexibility, while complying with international accessibility standards.