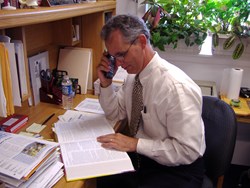 Choose Chiropractic Care in Frederick MD
Frederick, MD (PRWEB) January 20, 2014
Frederick, MD Chiropractor Steven Digles has recently announced that he will be building a new chiropractic website in conjunction with Inception Chiropractic Websites.
There are approximately three hundred and thirteen million people in the United States today. Approximately eight percent utilize chiropractic care; but for large numbers of Americans, it is not a part of their healthcare. Chiropractic has been shown to be effective for a number of different conditions, but this information does not often reach the mainstream media.
A number of chiropractors today believe that education is the key to bringing more patients to chiropractic care. Increased marketing efforts and the internet are making this possible today. With the cost of healthcare rising, chiropractic may be a great alternative to higher priced medical care for some patients.
When contacted at his office, Steven Digles D.C. said, "I've been a part of the Frederick community for a number of years now. I enjoy working with my patients to help them achieve optimum health results, but there are still too many people suffering with conditions that could be helped. Far too many people have not been exposed to what chiropractic care really is, and because of this they struggle needlessly."
Doctor Digles also said, "We are working a new chiropractic educational website in conjunction with Inception Websites to help improve this problem. We do what we can to reach out to the people of Frederick, but our website will give patients the opportunity to learn at their own pace. Patients that are curious about care will have the ability to read articles and watch videos that will give them a better idea of what can be done."
Doctor Mike Hamilton from Inception Chiropractic Websites also said, "As one of the founders of Inception, I fully understand the impact that chiropractic care can have. This amazing profession changed my life, and today my wife and I dedicate our time to helping chiropractors across the country spread the message. Doctor Digles and his team are exactly the type of office that we are looking to work with."
Doctor Digles at New Life Chiropractic Center is happy to answer questions for people that are curious about care. You can also learn more by visiting their website at: http://www.chiropractor-frederick-md.com