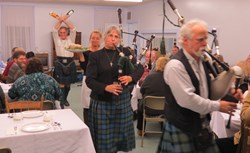 Fair fa' your honest, sonsie face, Great chieftain o' the puddin-race!
Andover, NY (PRWEB) January 20, 2014
Bagpipes, traditional Scottish food, song, jokes and poetry will be the theme of the evening on January 25. For the fifth consecutive year, a Robert Burns Dinner will be held at the Andover Presbyterian Church, gathering at 6 PM. Reservations may be made at Walker Metalsmiths Celtic Jewelry in Andover, which is organizing the event.
Scotland's most beloved poet, Robert Burns (1759-1796), has been remembered and celebrated by Scots and their descendants worldwide to the extent that his birthday, January 25, is observed as a holiday for over 200 years. Although he was a celebrity in literary circles and high society of Edinburgh, Scotland's capital, in late 18th century, his poetry was often in the vernacular Scots dialect and was the product of the rural, rustic farm folk of Burns' life as an Ayrshire plowman.
No Burns Dinner would be complete without the haggis. This sausage-like dish of oatmeal and "meat by-products" is ceremoniously born to the head table in procession, lead by a kilted bagpiper. Burns' poem, "Ode to a Haggis" is dramatically recited, praising the honest goodness and wholesomeness of this food of the common peasant.
Fair fa' your honest, sonsie face,
Great chieftain o' the puddin-race!
Aboon them a' ye tak your place,
Painch, tripe, or thairm:
Weel are ye wordy of a grace
As lang's my arm. (Robert Burns circa 1786)
The desirability of haggis is somewhat controversial. It is a hash made with organ meats and traditionally stuffed into a sheep's paunch, some of the traditional ingredients, although delicious, are not appealing to the squeamish. Stephen Walker tells how his grandfather once acquired a haggis in Canada for a Burns dinner in Syracuse, only to have it confiscated at customs. The inspector said, "it was not fit for human consumption." The haggis to be served at the Andover event is guaranteed to meet both the standards of wholesomeness established by the USDA and the traditional flavor and texture so loved in Scotland.
Haggis is just the appetizer of a meal of cock-a-leekie soup, beef, vegetables, shortbread and desert that will be prepared by Chelsea Wallace.
Among the traditional features of a Burns dinner is "The Immortal Memory," which is a tribute to Robert Burns touching on his life and times, loves and poetry. Dr. John Hunter, former president of Alfred State College and an enthusiastic Burns scholar will once again make this presentation. Musical entertainment will be provided by Mark and Kate Cushing of Ithaca.
Cost of the dinner is $25 per person. Advance payment will be accepted at Walker Metalsmiths at One Main Street in Andover or call 607-478-8567 for more information.
Walker Metalsmiths is a family-run Celtic Jewelry company run by master goldsmith Stephen Walker. They specialize in Celtic wedding and engagement rings, Celtic crosses and craft a wide selection of Scottish and Irish themed jewelry in gold and silver. The studio workshop is located at One Main Street in Andover, NY with a second retail location on the Erie Canal at 140 Packets Landing in Fairport, NY.