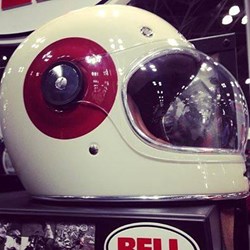 Bell helmets are well crafted, look great and offer helmets for all styles of riding. We feel that having helmets like Bell, is a great representation of Motochanic's commitment to selling great products.
West New York, NJ (PRWEB) January 20, 2014
In the world of motorcycle helmets, few companies have the reputation and longevity of Bell motorcycle helmets. Bell has crafted helmets for street, cruiser and full on adventure touring riders. Motochanic is proud to carry Bell's complete collection of helmets.
Bell helmets are quickly becoming a favorite among BMW, Harley Davidson, Victory, Triumph and Yamaha riders for their style and functionality. If you are in the market for a new motorcycle helmet, Bell has an amazing lineup worth considering; the Bell Rogue, Bell Mag-9 Sena, Bell bullitt, Bell qualifier and the classic Bell custom 500.
The Bell Rogue Corey Miller war eagle helmet is a bald new helmet with a unique profile that is well deserving of its name. The Rogue is essentially a low profile half helmet that resembles a military helmet from the 1940's. Visually what gives this helmet its character is its Injected molded face mask. This adjustable and removable mask has attitude and is great for riders that want a half helmet that offers additional protection.
The Bell qualifier is a new full face helmet that is going to offer great ventilation and aerodynamics. The qualifier will also come into the ring weighing only 3.4 pounds making this one of the best motorcycle helmets for under $200. Bell truly wants to separate itself from its competitors with the qualifier, they refuse to sacrifice build and quality.The new custom 500 helmet has quickly become a favorite among cruiser and cafe riders. The Custom 500 has a lightweight design that is inspired by Bell's line of classic motorcycle helmets. The interior displays a retro design that will be appreciated by it's customers. These are some of the benefits that make Bell motorcycle helmets a viable option to consider for your next riding trip. To see the complete line up of Bell's new motorcycle helmets visit us at Motochanic.com.