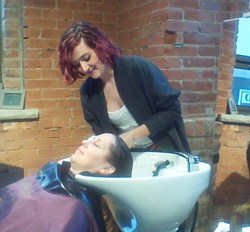 "This is so much more satisfying than a regular salon!"
Dundas, Ontario, Canada (PRWEB) January 31, 2014
The Ellënoire staff spend their days inspiring curly haired clients to live natural and frizz free, making fun and functional soap, creating new recipes for natural skin care creations and scouring the earth for new products to introduce to their loyal clients.
Ellënoire has a new curly angel in the Ellënoire salon. Noëlle Smith, the owner of Ellënoire, is pleased to introduce you to her newest stylist, Victoria. Some clients have met Victoria in the salon while she was training through the fall. Victoria is a vibrant young woman who attended hair school with Noëlle. In a bit of a gamble Noëlle offered Victoria a job after they had completed their program, hoping to entice her to come over to the curly side. Thankfully the gamble was on the right girl and Victoria has turned out to be a curly angel in disguise. Right away when Noëlle met Victoria in hair school she could see Victoria was a curly girl. It was clear to her that Victoria's hair was over processed, over coloured and painfully over-straightened curly hair. Each week they talked about curly hair as they drove home from Niagara Falls and they got to know each other. Noëlle explains "She asked me if the products I talked about would help her damaged hair and if so could she still wear it straight. Well of course I knew they would help, but she always had an excuse not to try them. It turned out my job offer came at exactly the right time for Victoria as she wasn't very satisfied with the salon she was apprenticing at."
Victoria started at the Ellënoire salon in the summer. In fact, the two ladies attended hair school graduation together, Noëlle already working as a stylist and salon owner and Victoria with a great new job moving her career forward. Now, after 4 months of training in the Ellënoire salon and her Level 1 DevaCurl Inspired Stylist course completed Victoria is more enthusiastic than ever. Even better, she wears her hair curly every day. Just last week when asked how she was finding working in a curly specialty salon as she replied "This is so much more satisfying than a regular salon!" Welcome aboard Victoria.
Says Noëlle, "For those of you who have not visited our salon yet, you can rest assured our stylists are very excited to show up to work each day which is not something I ever recall seeing in a traditional salon…. And yes, we cut straight hair too!"
Watch out on our Blog, facebook, Twitter and linkedin for curly hair tips and natural body product advice and for our new weekly sales event every Monday starting January 27th.
About Ellënoire:
http://www.ellenoire.com
104 King St W Dundas Ontario, Canada
905 627 9379
ellenoire(at)ellenoire.com
The Ellënoire boutique is an independent purveyor of fine Bath and Body products, Custom Blended Scents and a Natural Curly Hair Salon serving clients since inception as a home based business in 1994. Ellënoire provides their own line of bath and body products and dozens of other unique or exclusive lines at the boutique and online at http://www.ellenoire.com. In 2010, Ellënoire added Curly Hair Dressing services based on the famous cutting technique and DevaCurl products from the DevaChan salon in New York City to the offerings in the Ellënoire boutique. A sole proprietorship, Ellënoire is run by Noëlle Smith, a 47 year old single mother and Dundas native. Noëlle seeks to bring the best of unique or up and coming product lines to her customers, within the store's philosophy of "at least all natural if not organic". Noëlle's custom blended products including one of a kind individual perfume blends are a much sought after treasure and favorite with bath and body product junkies across North America. In 2000 Noëlle kicked a drug addiction, left an abusive relationship and returned to Dundas to raise her son. In 2008 Noelle developed Breast Cancer, enduring surgery, chemotherapy and cancer treatments for 18 months all while continuing to work growing the Ellënoire brand. For information on Noëlles challenges, in her own words, click the below.