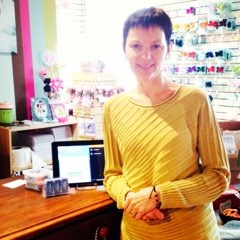 It's easy for my customers to sign up and only takes a minute to do so. I am able to give back to my loyal customers with a variety of rewards that they choose from, depending on how many points they have earned. - Anne Miller, Owner of Bows & Babes
(PRWEB) January 20, 2014
Bows & Babes is a niche boutique filled with cute clothes and accessories for little ones and their parents to enjoy! Located in Downtown Naperville, Illinois, a trip to Bows & Babes is a magnificent shopping experience, that will capture shoppers imagination with one of kind items and great customer service. Patrons can even enjoy children's parties and special events at Bows & Babes. Party themes range from arts and crafts, painting nails, cake pops, and dancing with friends. Bows & Babes even recently started offering Loom Bandz themed parties! Bows & Babes opened its store in the fall of 2011, and quickly established themselves as a Naperville favorite, becoming known for its legendary selection of hair bows. Bows & Babes unique inventory also includes baby gifts and kids' clothing by sought after, hard to find, national brands and several local artisans.
This past fall, Anne Miller, the owner of Bows & Babes partnered with RewardMyWay (RMW), a technology platform that allows merchants to increase customer visits through rewards and special offers. Merchants featured on RewardMyWay have customized loyalty plans that are unique to their businesses, marketed via social and mobile commerce tools that build brand exposure and provide real-time cash visibility into purchases.
Stephanie Lemus, RewardMyWay's Mobile Marketing Campaign Specialist, visited Anne recently to discuss the positive impact the RMW platform has had on her boutique. One of Anne's favorite parts about RewardMyWay is the Newsletter/Email module. When customers check in, the platform is able to collect data, allowing her and her team to remarket to their loyal base via email. The emails can be customized with private offers, special events at the shop, or just a friendly hello. This allows Anne to have a personal connection with her customers that is friendly, and engaging, while driving brand awareness.
Anne also enjoys the simplicity of the platform, stating, "It's easy for my customers to sign up and only takes a minute to do so. I am able to give back to my loyal customers with a variety of rewards that they choose from, depending on how many points they have earned."
Matt Chaney, RewardMyWay's Social Mobile Marketing Specialist initially signed-up Bows & Babes as RMW expanded into Naperville. Matt said, "Anne is a fantastic entrepreneur. She just "gets it". Right away Anne understood that the new world economy requires merchants to have an effective social, mobile and loyalty marketing strategy. The RewardMyWay platform has already begun to further amplify Bows & Babe's customer engagement and brand reach. We couldn't be happier to have Anne and her team at Bows & Babes as partners."