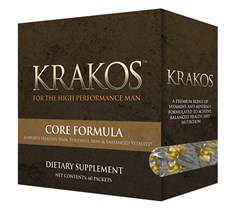 Frisco, Texas (PRWEB) January 22, 2014
Not content to revolutionize men's grooming services alone, The Gents Place now aims to revolutionize men's daily supplement routines through the release of its exclusive Krakos Core Formula in partnership with global nutrition leader Uckele.
A premium blend of vitamins, amino acids, and medically endorsed plant derivatives like Gotu Kola and Green Tea extract, the Krakos Core Formula is available at all of The Gents Place grooming and lifestyle clubs as well as online at http://www.krakosman.com.
The 30-day free trial is open to the public, and both new and existing club members will receive complimentary 60-day supplies of Krakos when they establish or renew a Gents Place membership this January.
About The Gents Place: Frequently referred to as America's premier men's grooming and lifestyle club, The Gents Place was founded in 2008 by Ben Davis out of frustration with having to choose between sub-par barbers and effeminate salons. In the years since, it has grown to include locations in Texas (Dallas, Frisco) and Kansas (Leawood) while offering a suite of men's services including straight razor shaves, hair upkeep sessions and consultations, and professional massages in a relaxed-yet-refined country club environment.
To learn more, visit The Gents Place online.