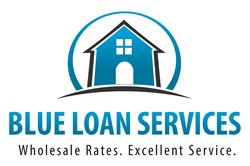 San Diego, CA (PRWEB) January 18, 2014
Blue Loan Services is a full service mortgage company that has been providing California home loan borrowers with the best wholesale home purchase and refinance rates, as well as access to the most trusted California mortgage lenders and specialized loan products for many years. The company's website offers a number of tools that homeowners and home buyers can use to find the best mortgage scenarios for their unique financial situations and lifestyles, as well as news on the latest mortgage trends and other stories that affect mortgage rates and home prices. Now, as California mortgage rates edge to new six week lows, the mortgage company offers some advice for those seeking the best possible home loan scenarios.
A January 17th report from Mortgage News Daily explains, "Mortgage rates moved lower for the second day in a row, bringing them back to the same 6-week lows seen on Monday, on average. Some lenders were in slightly better or worse shape compared to Monday, but any discrepancies would only be noticeable in the form of closing costs. That means 4.5% remains the most prevalently quoted conforming 30yr fixed rate for ideal scenarios (best-execution). When adjusted for day to day changes in closing costs, rates fell an equivalent of 0.03% today, the same as yesterday's move. We're now in relatively uncharted waters as far as the last 8 months are concerned. Over that time, rates have moved almost exclusively higher. The periodic corrections tended to be short-lived and to follow huge moves higher--i.e. true "corrections"--the kind you see only because markets don't move in one direction all the time."
Blue Loan Services explains that at the moment there really is no way to tell where rates will be headed next week. California borrowers might see their quoted rates improve even further, or the low rates seen now might be gone for good (or at least for a very good long while). The mortgage company reminds borrowers that locking in the current low rates is the only safe bet to avoid potentially higher rates in the future, however those who take the risk to float their rates might be rewarded with further decreases in the coming week. However, it is important to note that rates are expected to go up steadily throughout 2014 and beyond, and any improvements to rates are likely to be short lived.
Because of this, Blue Loan Services suggests that those who do decide to wait to see if rates will go down further to keep a very close eye on any changes in the mortgage market and lock at the first sign that things might be reversing. However, for those who do wish to lock in today's low mortgage rates, Blue Loan Services has the ability to help them find the best possible loans for their situation and work quickly to get approved. Their fast online loan application and documentation portal makes it simple for clients to submit their application and keep track of their loan's progress. With a reputation for fast, reliable and courteous service, the company's team of experienced loan officers can be especially useful during this time of rapidly changing mortgage rates.
For more information on how Blue Loan Services can help California home loan borrowers get approved for their home purchase loan or refinance quickly, please visit BlueLoanServices.com or call 1-888-929-BLUE (2583) to speak with an experienced mortgage professional.
CA Dept of Real Estate -- Licensed Broker #01094374 NMLS #938365