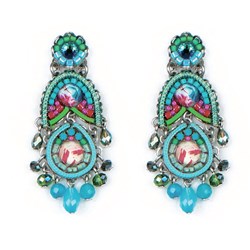 In all my experience with jewelry, I have rarely been as inspired by jewelry as I am by the Ayala Bar Spring 2014 collection and I absolutely cannot wait to ignite the spark of this collection to the public
Alpharetta, Georgia (PRWEB) February 19, 2014
Setty Gallery, your source for unique handmade designer jewelry, is proud to announce the release of the Ayala Bar Spring 2014 collection, now available at settygallery.com. Handmade designer jewelry fanatics looking for a new and inspiring look for the spring will not be disappointed. Ayala Bar Jewelry has a unique and stunning style –a so-called fusion of Middle East and art culture. The Spring 2014 collection epitomizes one of the most innovative assortments that Israeli Jewelry has to offer.
The beauty in the Ayala Bar Spring 2014 collection is that it features something for everyone in its hip, radiance, and classic flares including almost 20 unique styles. The Mariachi style reminisces the sound of Latin Guantanemera rhythms in its kaleidoscopic amalgam of hues. The Marino style is a silhouette of portent dreams with passionate reds and classing blues shining from every angle. The Playa Azul style is perfect for some "fun in the sun" as it is nostalgia to paradise with its sleek silvers, calming blues, and coral reds. Each style has its own story to tell. The collection is multifarious in that it provides a journey to trek along with each new piece of jewelry.
Ayala Bar is one of Israel's most premier jewelry designers. From her studio in the fashion hub of Tel Aviv, she designs one-of-a-kind jewelry with glass beads, Swarovski crystals, mineral stones and other natural elements. Each year the devoted artist releases two new collections – an Ayala Bar Fall Collection and an Ayala Bar Spring Collection. Her jewelry can be found worldwide in museum stores such as the Jewish Museum of New York City and the Museum of fine art in Houston, as well as in exclusive fashion boutiques and art galleries all over.
About Setty Gallery: Setty Gallery carries a unique online selection of Ayala Bar jewelry such as Spring 2014 and Fall 2013 collections and discontinued previous season items at up to 50% discount. Operating from the bustling city of Atlanta, Setty Gallery is an online jewelry store that features handmade jewelry from leading designers around the world. Designers available include: Ayala Bar, Michal Negrin, Orna Lalo, Michal Golan, Mary Frances, Leetal Kalmanson, and more. Since 2005, the company's has strived to provide each one of its customers around the world with the absolute best jewelry purchasing experience possible. Place your order online or telephone the company's customer service department at 1-800-216-8066. Follow Setty Gallery on Facebook and Twitter for special offers and the ultimate online jewelry shopping experience.