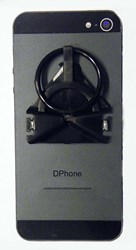 Austin, Texas (PRWEB) February 11, 2014
Okeksia LLC of Austin, Texas, introduces the Phryng™, a phone-mounted finger ring that when properly used greatly reduces the chance of dropping a cell phone, or any other hand-held device.
Its unique feature is that a person can simply press the ring, and it pops up and over the finger. This allows people to secure their phones before removing them from a pocket, purse, or holster. The user can securely rotate the phone into any viewing orientation, or flip it onto the back of the hand while working on another task. When the use of the device is complete, simply return it to the pocket, purse or holster, and then return the ring to the device's latch.
With the Phryng™, there is no reason for a cumbersome phone case. This product allows people to enjoy the design of their devices and to slip them easily into and out of their pocket, purse or holster. The Phryng™ even functions as a landscape kickstand when it is used on a table or a desk.
Made entirely in the USA, the Phryng™ is only $24.99, and can save people a lot of time and money repairing or replacing phones. Busy students and business executives will find the Phryng™ a life saver today, when people's phones hold all of their vital information and contacts. The Phryng™ is available now at Amazon.com. There are affiliate opportunities available for marketing the Phryng™ through the Amazon.com Associates Program.
About Okeksia LLC
An Austin, Texas product development company founded in 2013, Okeksia seeks to create innovative products that amplify fun and productivity. In addition to Phryng™, a number of other innovative phone and mobile device products are under development. The founders are two intellectual property attorneys, a computer engineer, and a scientist, who try to keep all of the production of their company in the USA. Manufacturing and distribution of Phryng™ employs Americans in three states.
Contact:
Okeksia LLC
8760 A Research Blvd #246
Austin, Texas 78758
512-791-5560
Email: info(at)okeksia(dot)com
http://www.okeksia.com