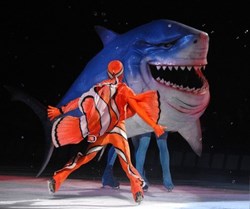 Denver, Colorado (PRWEB) January 20, 2014
Disney On Ice first hit the rink in 1981. The whole idea was to combine spectacular skating with theatrical staging to bring the music and the magic of the many Disney classics to life.
Today, after over three decades, the franchise has continued to grow in both popularity and productions, as over eight shows are now on tour around the world at any given time. Currently, on the North American continent, three productions are at play.
The first, Disney On Ice: 100 Years of Magic, has 153 performances on the slate and wraps at the Prudential Center in Newark, New Jersey today. The cast then moves to the Barclay's Center in Brooklyn, New York from January 22 – 26, 2014.
Next, shows are set for the Sun National Bank Center in Trenton, New Jersey from January 29 through February 2; Baltimore Arena in Baltimore, Maryland from February 5 – 9; and Verizon Center in Washington, D.C. from February 12 – 17, 2014.
Disney On Ice: Princesses and Heroes, with 92 performances on the schedule, just closed at the Verizon Wireless Arena in Manchester, New Hampshire on January 19 and opens at the Bankers Life Fieldhouse Indianapolis, Indiana from January 22 – 26, 2014.
Passport to Adventure has 55 dates on tap. The cast wraps at the Mohegan Sun Arena at Casey Plaza in Wilkes Barre, Pennsylvania today, then travels to the Blue Cross Arena in Rochester, New York from January 22 – 26, 2014.
"All three Disney On Ice productions are trending at the top of ticket sales," said Felina Martinez at online ticket marketplace BuyAnySeat.com.
"That's why we're proud to be able to offer fans and their families a complete and continuously updated inventory of Disney On Ice tickets, with a worry-free guarantee to protect their purchase," said Martinez.
"To access the complete selection Disney On Ice tickets we now have available, customers can go to BuyAnySeat.com and search for Disney On Ice – then select the production they want to see and find their tickets."
Disney On Ice is a series of touring ice shows that are produced by Feld Entertainment in agreement with The Walt Disney Company. Typically, new shows debut and play in North America for two years and then head on to Japan for the third year, and Australia, England, and other parts of the world for the fourth year. Beyond that, shows such as 100 Years of Magic normally return to the Americas for the fifth year, then trek around the globe and back in succeeding years. (Source: wikipedia.org)
The shows are known for their combination of expert skating and choreography. Dressed as classic Disney characters, professional skaters glide around famous fairytale sets and perform polished routines along familiar story lines. Plus, it all takes place to the upbeat tempo of Disney's popular tunes, which often spurs audiences of all ages to stand up and start singing and dancing along.
First known as The Magical World of Disney on Ice, 100 Years of Magic opened in September of 1999; and it has been updated in 2005, 2007, 2009 and 2010 to include characters from Finding Nemo, Lilo & Stitch and The Incredibles. Choreographed by Sarah Kawahara, the production now features over 65 Disney characters.
Princess Wishes: Princesses and Heroes began in September of 2006 and portrays abbreviated versions of popular Disney stories, including Snow White, The Prince, Belle, The Beast, Jasmine, Aladdin, Cinderella, Prince Charming, Princess Aurora, Prince Phillip, Ariel, Prince Eric, Rapunzel, Flynn Rider, Tiana and Prince Naveen.
Tinker Bell and Mickey Mouse serve as presenters for the show, which features lighting and laser effects, as well as pyrotechnics, with a dragon breathing fire on the ice during the Sleeping Beauty sequence.
Passport to Adventure, formerly called Mickey & Minnie's Magical Journey, is the longest-running show on tour. After opening in October of 1995 as World on Ice: 3-D, the show was updated in 2001, 2003, 2007 and 2008 and tells the story of Mickey and Minnie on an adventure that takes Under the Sea, to Hawaii, Never Land and Africa.
To see upcoming cities and dates, and to shop for Disney On Ice tickets, visit BuyAnySeat.com.
About BuyAnySeat.com: An online ticket marketplace, BuyAnySeat.com connects sports, theater and other live entertainment fans to an extensive worldwide network of ticket sellers. The site's simplified listings and navigational tools enable fans to easily locate, compare and purchase inexpensive, discounted or lower-priced tickets to virtually all advertised sports and entertainment events around the globe.
The marketplace, which is PCI-compliant and Norton Secured, also provides customers with a complete Worry-Free Guarantee on all ticket purchases. Based in Denver, Colorado, BuyAnySeat.com is a subsidiary of Denver Media Holdings. For more information, please visit http://buyanyseat.com.