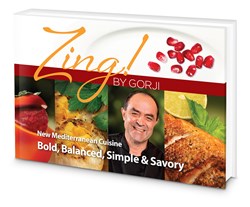 I seldom use batters, coatings or rubs. I want the main ingredient to be recognizable and naturally flavorful.
Dallas, Texas (PRWEB) February 11, 2014
"The food I cook pays homage to French, Italian, Spanish, Greek, Turkish, Middle Eastern and North African cuisines," says Chef Gorji. "I take the best elements and interchange the techniques and ingredients. I call these cross-border partnerships 'New Mediterranean.'"
Tips, Techniques And Surprising Flavor Combinations
Some of his simple secrets are:

using quality ingredients,
minimal spices
harmonious ratios
abbreviated cooking times
"I seldom use batters, coatings or rubs because I want the main ingredient to be recognizable and flavorful. In most instances, I grill, roast or sauté meat, poultry, seafood and vegetables by brushing them only with olive oil, salt and pepper first.
Gorji also provides his personal list of favorite ingredients that comprise his essential building blocks of flavor—such as pure olive oil and limes—that he cooks with.
Critical Acclaim
His "New Mediterranean" culinary stylings, featured at his intimate Dallas restaurant, have been garnering critical acclaim for over a decade, he even earned the coveted "Texas Steak Cook-Off Champion" award for his take on steak that incorporates pomegranates. In a recent interview, Edible Dallas & Fort Worth Magazine highlighted his Quail Breast, honey and barberries recipe. EATER featured a photo layout of the cookbook describing a sampling of recipes.
Nancy Nichols, of D Magazine says, "What a splendid insight into the culinary creations of one of Dallas' most talented chefs!" And one dedicated diner gave the book high marks, saying it is "...sharp, classy, informative, intelligent, colorful and delicious!"
"Zing! By Gorji"—New Mediterranean Cuisine: Bold, Balanced, Simple & Savory
Published by TasteWonders, 172 pages, December 2013 $34.95 ISBN  978-0-9884897-0-7. Available at zingbygorjicookbook.com, DFW Whole Foods Market®, Amazon.com. Visit: zingbygorjicookbook.com.
About Gorji
Chef Gorji, has been chef-owner of Canary By Gorji, an intimate 10-table restaurant in Dallas, Texas for more than a decade. He launched Gorji Gourmet Foods® in 2006 and just released a debut cookbook, Zing! By Gorji that features his signature "New Mediterranean" cuisine. The product line includes Pomodoro sauce, Puttanesca sauce, Dipping Oil & Marinade and Pomegranate Vinaigrette and was developed to help home cooks easily make gourmet tasting dishes. For more information, please visit chefgorji.com.