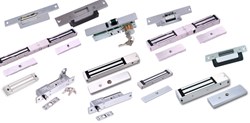 (PRWEB) January 23, 2014
SWAccessControl.com is a leading supplier of magnetic door locks. Recently, the business has listed its best-selling magnetic door locks. Moreover, these products are offered with great discounts; the special offer is valid until before Feb. 28, 2014.
The CEO of SWAccessControl.com says that a magnetic lock (or maglock) is a locking device that includes an electromagnet and an armature plate. All their magnetic door locks are well-designed and highly crafted locks. There are hundreds of reliable products available on SWAccessControl.com. The company ensures the customer's satisfaction by checking and re-checking the ready-made door lock products before shipment.
"We are happy to introduce our best-selling magnetic door locks to the international customers," says, the CEO. "We are offering great discounts on our new products, and we hope to expand our market share through such a promotion."
SWAccessControl has a vast knowledge of craftsmanship and clients needs, which have helped it to develop as a leading brand in the industry. The client-oriented magnetic door locks and services have helped the company to achieve a great success in 2013. The company promises to provide high-quality products and services to each customer.
The company aims to be a setter of an industry quality standard. So when customers see the products from SWAccessControl.com, they can understand they are purchasing high quality products that uses superior materials.
About SWAccessControl.com
SWAccessControl.com is a leading access control system manufacturer and supplier from Shenzhen, China. The company aims to provide the best quality products at reasonable prices for its clients around the world. Its products include fingerprint access control systems, RFID access control systems, proximity card readers, magnetic locks, electric bolts, access control power supplies and more. For more details of the company and its products, please visit: http://www.swaccesscontrol.com/?content/product/category/8/index.html