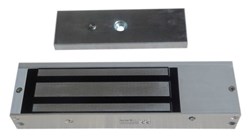 (PRWEB) January 24, 2014
Recently, SWAccessControl.com has launched its new 500kg door electromagnetic lock, SW-500D (LED). According to Ms. Amy, the CEO of SWAccessControl.com, their electromagnetic locks are selling well in the global market recently; the company will expand its production line to more electromagnetic lock models.
Ms. Amy said, "Our maglocks come with many flexible applications and have a range of activation strength, from 100lbs to 1200lbs. They are specially designed for some customers who have special requirements in quality. Our electromagnetic locks, with Independent intellectual property rights, are the most advanced and stable electromagnetic locks in the market."
The following are some details of SW-500D (LED)
Collinear Load Test 500kg x 2,1200Lbsx2.
Dual Voltage 12 or 24 VDC (optional).
The Standard Voltage is 12VDC when Finished.
MOV Provides Reverse Current Protection.
Suitable For Wooden Door, Glass Door, Metal Door, Fireproof Door.
LED Indicates the Door Status.
Lock Status sensor (NO/NC/COM).
Anti-Residual Magnetism Designed.
High Strength Material, Anodized Aluminum Housing.
Design without Mechanical Failure.
Increase the holding Force, Dual Insulative Housing.
For more details about SW-500D (LED), please visit:
http://www.swaccesscontrol.com/?content/product/129/index.html
"Shenzhen is the most important production base of China electromagnetic lock industry. We own well-designed product lines that we feel is the best in the industry. Also, we also have a money back guarantee, which provides customers a risk free way of purchasing any of our innovative products." Continued Ms. Amy.
About SWAccessControl.com
SWAccessControl.com is a leading access control system manufacturer and supplier from Shenzhen, China. The company aims to provide the best quality products at reasonable prices for its clients around the world. Its products include fingerprint access control systems, RFID access control systems, proximity card readers, magnetic locks, electric bolts, access control power supplies and more. For more details of the company and its products, please visit: http://www.swaccesscontrol.com/?content/product/category/8/index.html