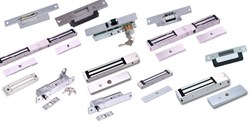 (PRWEB) January 25, 2014
A mag lock (magnetic lock) is a locking device that includes an electromagnet and an armature plate. Recently, SWAccessControl.com has released its new mag locks. According to a senior sales manager for the company, the promotion is from Jan. 19, 2014 to Feb. 15, 2014; the aim of this promotion is to expand the USA market.
"Our mag locks have a range of activation strength, from 100lbs to 1200lbs. Now they are offered at discounted prices. The promotion is launched to expand our market share in the USA market." The sales manager says, "Each of the mag locks from us is a well engineered and highly crafted lock. We have a strict quality policy, and we will invest more money on improving product quality in 2014."
He adds, "SWAccessControl.com is a company that is founded by a group of engineers, creative and technology professionals, researchers, scientists and more. All our products are CE/FCC approval, and we are rapidly expanding our market share in the global market. Distributors and companies of all sizes can find their dream products at SWAccessControl.com."
The products from SWAccessControl.com include fingerprint access control systems, RFID access control systems, proximity card readers, magnetic locks, electric bolts, access control power supplies and more. The company promises to help clients with the insight necessary to make better purchasing decisions.
About SWAccessControl.com
SWAccessControl.com is a leading access control system manufacturer and supplier from Shenzhen, China. The company aims to provide the best quality products at reasonable prices for its clients around the world. For more details of the company and its products, please visit: http://www.swaccesscontrol.com/?content/product/category/8/index.html