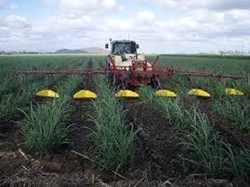 Herbicide Application @ EurekaMag.com
Mannheim, Germany (PRWEB) January 20, 2014
EurekaMag.com has newly published 75,518 references and abstracts on application of herbicides. The site's Research Category extensively covers this agricultural practice of destroying unwanted weed vegetation in cultivated crops. The Life, Earth & Health Sciences Research Section 17 provides many scientific studies on herbicides which are pesticides, also commonly known as weedkillers, used to kill unwanted plants. Selective herbicides kill specific plants, such as broadleaf or grass species, while leaving the desired crop relatively unharmed. Some herbicides interfere with the growth of weeds and are often synthetic mimics of natural plant hormones. Other non-selective herbicides kill all plant material with which they come into contact.
The Life, Earth & Health Sciences Research Chapter 16003 presents a selection of the current total of 75,518 references and abstracts on herbicide application including articles on herbicide application by ultra-low-volume sprayer for controlling common weeds in rubber, herbicide application for weed control in intensive poplar cultures in river Tamis region, herbicide application in Bavarian mountain areas from a biological, technical and ecological view, herbicide application of rice fields and environmental protection, herbicide applications in tillered winter wheat for double-crop soybean weed control, herbicide combinations for no-till chemical fallow in the Central Great Plains, herbicide combinations for residual weed control in Roundup-Ready corn, herbicide concentration patterns in rivers draining intensively cultivated farmlands of northwestern Ohio, and on herbicide control of annual bromes, broadleaf weeds, and volunteer wheat in chemical fallow in no-till and conventional tillage.
EurekaMag.com was launched in 1998 and has become a comprehensive publisher of references in biology, in the applied life sciences agriculture, horticulture and forestry, in the earth sciences, in the environmental sciences, and in the health sciences. After its latest update stemming largely from the agricultural sciences, it contains a total of 38,897,688 bibliographic references from as early as the beginning of the 18th century (1703). 58% of these entries feature a summary of their scientific content. Besides its new streamlined design and a much improved site search, the site features a mobile version for smartphones and frequently updated accounts at Twitter, Facebook, LinkedIn and Google+.