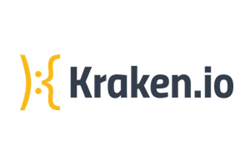 Over 62% of today's Internet traffic is made up of images alone.
Berlin, Germany (PRWEB) January 21, 2014
Kraken.io is pleased to announce the release of Web Interface PRO, a simple Web-based application designed with the goal of making professional-grade image optimization more fun and more accessible to non-technical users. Web Interface PRO is offered as a simple yet powerful web interface which allows users to optimize their images through Kraken.io's machines, eliminating the need for the requisite programming knowledge necessary to connect to Kraken.io's API - which until now has been its core offering.
The goal of Kraken.io, a Berlin-based online technology startup which commercially launched in August 2013, is to be "the go-to image optimizer for just about anyone who cares about web performance, as well as a special niche of image optimization junkies," says CTO and co-founder Karim Salman. "About sixty two percent of today's Internet traffic is made up of images alone, and most of those images have plenty of room for optimization or compression; there are byte savings to be made all over the place, and without substantially changing the visual quality."
Kraken.io's main target audience is website developers and owners who want to improve the User Experience (or UX) and page loading times of their sites by squeezing unnecessary bytes out of images to reduce their file size. This is achieved by applying a series of optimization algorithms depending on the type of image (for example, JPEG) and other image-specific properties and characteristics.
In recent years, many high profile studies have shown that there is a direct link between page loading times (or pagespeed) and revenue.
Slow-loading sites will experience a lot of "bouncing" traffic, or higher bounce rates. Conversely, fast and optimized websites lead to higher visitor engagement, retention, conversions and overall customer satisfaction. Fast loading site owners also enjoy lower operating costs, since less bandwidth is being consumed per page request.
Kraken.io believes that optimizing images on webpages to speed up their loading times is an essential first step, and one of the easiest to implement as part of a website's Web Performance Optimization regime, or WPO.
Kraken.io's "optimizer stack" is capable of reducing the file size of images by a typical 50-75 percent without noticeably changing the quality. The achievable size reduction through optimization is heavily dependent on the unique data of the particular image being optimized - some "outlier" images might be reduced in size by 90 percent without looking different to the original.
With the introduction of Web Interface PRO, Kraken.io hopes to eliminate the technical barrier-to-entry for less tech-savvy users such as bloggers, non-technical website owners and individuals wishing to save storage space, for example, by optimizing their private photograph collections.
Web Interface PRO is also a valuable tool for web shops who would like a simple frontend to optimize all of their image assets while keeping them stored in Kraken.io's storage cloud.
For such users who may have limited programming knowledge or experience, or the time to write code to connect with Kraken.io's API, it is hoped that Web Interface PRO will provide a simple and convenient way to reap the benefits of one of the cornerstones of sitespeed optimization.
More information on Kraken.io's offerings can be found at http://kraken.io, including examples of optimization results, features and documentation, and paid plans and pricing details.
About Kraken.io
Kraken Image Optimizer is owned and operated by Nekkra UG, a Berlin-based technology startup. Kraken.io been offering its image optimization services commercially since August 4, 2013, when it came out of its beta testing phase. Kraken.io is obsessed with achieving an extremely high level of compression while leaving the image as visually similar to the original as possible. Kraken.io can be contacted at support(at)kraken(dot)io or at +49 173 233 5432.