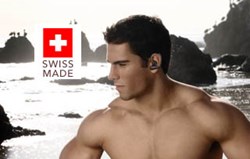 Turning physical activity into preventive medication.
Biel/Bienne, Canton of Bern, Switzerland (PRWEB UK) 20 January 2014
The first two wearable devices by Sensogram Technologies AG will be introduced to the market this year as unique products in the growing field of mHealth and eHealth.
SensoTRACK™ is addressing a growing need in the sports, fitness, and physical activity markets. It is a smart monitor that is able to not only read several activity parameters, but also simultaneously monitor these vitals. Thus, it can advise the most efficient ways to exercise as well as offer healthy and safe ways to meet physical activity objectives. Goal-driven, activity-optimized, health-supportive monitoring and individual 'coaching' are the functions of this next generation wearable device. SensoTRACK™ is capable to monitor, learn, and know the user through the extent, that it can 'coach' the user in meeting his/her goals. User-specified goals can include weight-loss, general fitness, sports performance, or any other activity objectives set by the user or trainer. The user's vitals are continuously read and monitored during the assessment of physical activity patterns by SensoTRACK™, and consequently, the best course of activities is advised to achieve the target goals. This makes SensoTRACK™ a viable contender in becoming a user's best workout companion. The device is helpful not only during planned workouts, but also in daily activities which can be assessed to see how they contribute to predetermined fitness, sports, and/or health goals.
SensoSCAN™ is a wearable medical device for patient monitoring. Vitals, physical activity, as well as posture and pain monitoring are available. This opens new horizons for doctors to give patients required first aid, treatment, and optimum activity regiments. It also helps with the process of diagnostics. Remote and continuous patient monitoring are proving to be major trends for accurate diagnostics, while they are mostly lacking to be convenient, cost-effective and functional. SensoSCAN™ is addressing and solving all of these obstacles. An important point that is overlooked by a lot of newcomers in the marketplace is accuracy. For most wearable devices, accuracy and mobility are two conflicting parameters, which is what makes these medical gadgets so frustrating for many consumers. Sensors developed and built by Sensogram Technologies AG, and deployed in SensoSCAN™ are able to accommodate monitoring indoors and outdoors, in the dark or in sunlight, in motion or at rest, and in almost any environmental condition. All of this will make SensoSCAN™ a truly one-of-a-kind device in the marketplace.
About Sensogram Technologies AG
Sensogram Technologies AG is a Swiss company specialized in designing, producing and marketing innovative biosensors implemented in the form of small portable devices. It is headquartered in the canton of Bern and operates internationally. For more information, visit http://www.sensogram.com.
Contact
For questions or further inquiries, please contact Ms. Karin Roth at Karin(at)Sensogram(dot)com
Phone: +41 79 616 7095