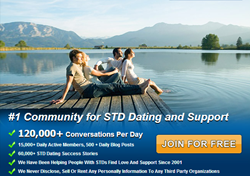 Los Angeles California (PRWEB) January 20, 2014
The leading dating website for people who have sexually transmitted diseases, PositiveSingles.com, has released the results of the latest weekly "Hot Topic" page. This is a page within the website that allows members to share their views on the hot topic of the week. This week the hot topic asks the members if they would date someone who has a different STD than they have, or even someone who has multiple STDs.
Currently, 100 members have registered their view on the topic and most of the results were negative regarding this controversial question. A total of 27.1 percent of answers were positive. These people feel that if you truly love someone, it doesn't matter if they were to have a different disease than themselves. They say that if both people in the relationship are educated and take the necessary precautions, then there's no reason to not follow your heart. Knowledge is a powerful prevention tool. They also say that sex is not everything in a relationship. There are many other reasons to be in a relationship when you truly love someone.
The other 72.86 percent of the members say they wouldn't date someone with a different STD than what they have. These members feel there are too many risks associated with dating someone who has a different STD and are afraid of catching another STD from someone they are dating. They feel that if they date someone who has the same STD as them, they won't need to worry about catching any serious illness from them, but if they date someone with a different STD, then they would always have that worry. They would be too frightened to catch one or even two additional STDs. They also share fears that if one partner transmitted their STD to the other person, that stress would cause some people to end the relationship. They feel the risk isn't worth it.
About PositiveSingles.com
As the largest and most trusted online dating site for people living with Herpes, HPV, HIV / AIDS, Hepatitis, Chlamydia, Gonorrhea, Syphilis and other STDs, PositiveSingles.com is completely anonymous and cares about members' privacy more than other sites. You are not required to submit any information that you are not comfortable with on this site. Whatever you are looking for Herpes dating, HPV dating, HIV AIDS dating, or any other STD dating, PositiveSingles.com is the best place.